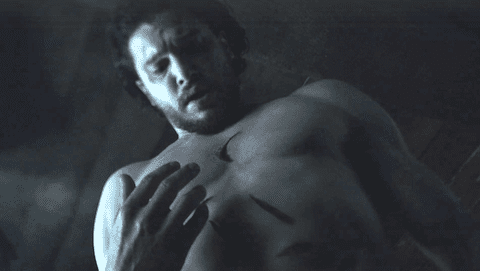 So much happened in last night's episode of Game of Thrones, "Oathbreaker," it took a few viewings to really soak it all in. Maybe it was lighter in big character breakthroughs or massive shockers, but it certainly moved some very important pieces into place.
As always, there are lots of moving pieces to stab, slay and sort through, so throw on your finest furs and let's break it down in our SPOILER-filled recap below.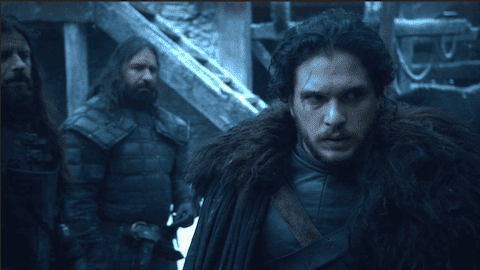 Meanwhile, At Castle Black …
Jon Snow is awake, and he's got a sassy new haircut. Besides looking like Marnie's ex on Girls, he seems otherwise pretty OK. Not possessed by a demon or craving brains or any other troubling behavior, at least not yet. Tormund welcomes him back with a bit of joshing over the size of Jon's little Longclaw (pics or it didn't happen). But you know who is definitely hung, though? Olly, Ser Alliser and their traitorous buddies.
I'm sorry, hanged. They're hanged. Jon Snow has them up in the gallows where Alliser makes one last claim that he would do it all over again if he could. Snow hesitates for a moment before cutting the cord and sending his attackers swinging. The camera lingers on young Olly's bloated, blue corpse face long enough to shout at viewers who endlessly complained about the TV-only character "ARE YOU NOT ENTERTAINED?"
And with that, Jon Snow hands over his fabulous cape to Edd and decides that, since he did technically die, he no longer needs to honor his ride or die Night's Watch oath. Hopefully this frees him up to go reclaim Winterfell, just not too quickly. It's going to be a real bummer when Sansa and Brienne show up if the Night's Watch has to be all "You just missed him!"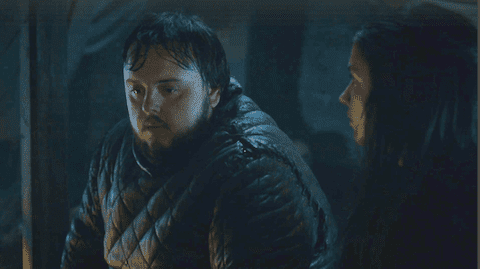 Meanwhile, On A Boat, Who Cares …
Sam and Gilly are on a boat. Sam informs Gilly that he'll be dropping her and the baby off at his family's home in Horn Hill while he ventures on to Oldtown to become a Maester. I inform the writers that I am not interested in a free-standing Sam story arc functioning in isolation from other more interesting characters.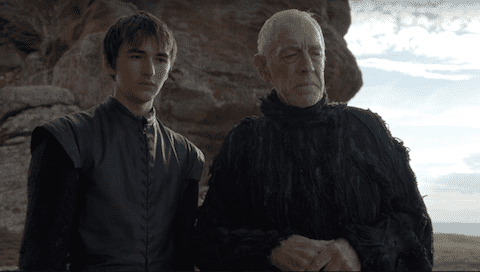 Meanwhile, Somewhere In the North …
Bran wargs into the past (purse first, purse first!). He's at the infamous Tower of Joy, watching a younger version of his father. (If last week's flashback was like Game of Thrones Muppet Babies, this one was more like Game of Thrones High School Musical.) Ned's joined by Meera's dad, Howland Reed, and they face off with Ser Arthur Dayne, one of Westeros' greatest swordsmen. The way Ned had told the story to Bran, they defeated Dayne in a really valiant and respectable and totally cool way. However, Bran sees what really went down: Howland Reed stabbed Dayne in the back, and Ned finished him off. Ned heads up to the tower, but the Three-Eyed Raven harkens Bran back before they can see what's inside. Bran (and the audience) want to know right now what's in the tower, so Bran shouts after his daddy, even though the Raven told him they can't hear him. Except! This time! Ned halts his ascent up the tower stairs and looks backward. Was it the wind? Was it gas? Or did he really hear Bran calling after him? Like Bran, we'll have to wait a bit longer to see exactly what's going on in the tower, but GoT fans have their own ideas. (R+L=J, anyone?) Bran is upset with the Raven when they return to the present and tells his mentor, essentially, I DON'T WANT YER LIFE, to which the Raven responds Bran will not be an old man in a tree, but he needs to learn everything before he ventures on.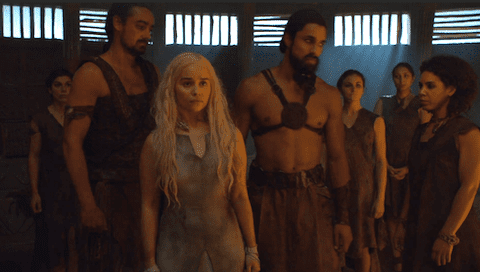 Meanwhile, In Vaes Dothrak …
Daenerys is getting The Girlfriends' Guide To Dothraki Widowhood when she learns some interesting info. While most of the Khals' widows end up here, they do so immediately following their husbands' deaths. Daenerys instead went a wandering out in that great, big world, breaking chains and ruling lands. Now, all the gathered Dothraki will decide if she gets to stay there or if she will face a less desirable fate. Or! Maybe her three liberated dragons will come flying in for a Dothraki barbecue. Who's to say?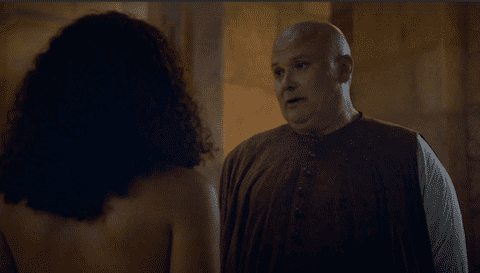 Meanwhile, In Meereen …
Tyrion is killing time hilariously trying to make small talk with Grey Worm and Missandei (and trying to play the Westerosi version of Never Have I Ever), while Varys is busy. The Spider is working with one of the Sons of the Harpy's co-conspirators. We see him weave his web to get more info. First, he casually drops in that he knows about the woman's asthmatic son. It's enough of a threat for her to reveal that the rebellion in Meereen is being funded by some other wealthy slave cities. Luckily, politicking is something Varys and Tyrion have a bit of knack for.
Meanwhile, In Braavos …
Blind Arya is getting her daily beatings from the Waif as she's quizzed about Arya Stark's past. She had a sister (Sansa), a half-brother (Jon) and three brothers (Robb, Bran and don't forget Rickon). (Seriously, don't forget Rickon. It will be important later.) She tells the Waif about her Kill Bill list and how the Hound was removed just before he died. (Honestly, it's an honor just to be nominated.) When she finishes, the Faceless Man brings her over to the poison well and is like here, drink this. Arya is obviously a little suspicious, but he assures her that if she is truly no one, she has nothing to fear. Arya takes a big swig and, hooray, she can see again.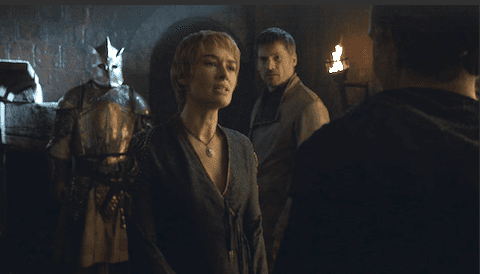 Meanwhile, In King's Landing …
Qyburn has taken over Varys' network of "little birds," latchkey kids and rascals who run around the streets and pick up all those whispers. Jaime and Cersei crash his little playdate to tell him to get birds in Dorne, the North and Highgarden so Cersei knows if anyone is talking smack. She also reveals her plan to use the resurrected Mountain to not kill the High Sparrow — whose hundreds of faith militants would just as easily avenge him — but to fight on her behalf in a trial by combat.
Cersei and Jaime, along with The Zombie Mountain crash a small council meeting, and their ears must've been burning, because the small council was just talking about them and how gross and weird The Zombie Mountain is. The Lannister siblings take a seat and refuse to leave until they can coordinate some sort of response to the Sparrows and Dorne and all that, but the council isn't interested in playing with Cersei and Jaime, so they take their balls and go home walk out of the room.
Elsewhere, Tommen goes to visit the High Sparrow and have a little snit about how his wife and mother have been treated (but mostly about his mommy). Of course, millennials Tommen is charmed by Bernie Sanders the High Sparrow, so he's quickly sweet-talked by the kind old man just claiming to be doing the people's Lord's work.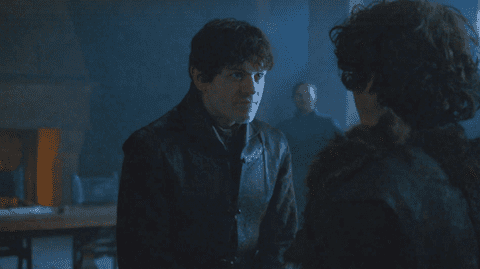 Meanwhile, In Winterfell …
Ramsay is having a visit from one of the Lords of the North that previously refused to fly his father's banner. Well, now that daddy's dead, he wants some of the Boltons' protection from Jon Snow's Wildling army. To prove his loyalty, he's brought Ramsay some gifts. First, here's a Wildling girl. Not just any Wildling girl, but Osha, the Wildling that escaped Winterfell with Bran and Rickon. The second surprise is … Rickon Stark himself. Ramsay isn't convinced this is really the youngest Stark son, so the Lord brings out the severed head of Rickon's direwolf Shaggydog. Cue the Sarah McLachlan music. (In the arms of the angel Did you know half of Westeros' direwolves are killed just to prove a point? Fly away from here … ) Could Rickon be facing a similar fate as Theon? Could this be the start of Reek 2: The Reekoning?
What did you think of last night's episode?