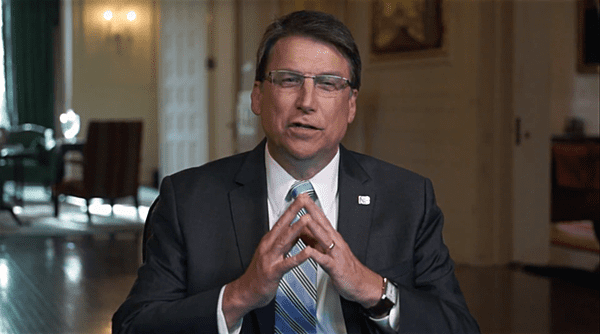 North Carolina Governor Pat McCrory has made his decision regarding a Justice Department ultimatum to stop enforcing anti-LGBT HB 2. He is taking the federal government to court.
The NC Governor's office issued a statement and said McCrory plans to provide an additional statement to the media at 1 pm ET today:
Governor Pat McCrory has filed a declaratory judgment action asking the federal courts to clarify federal law. This action is a result of the Obama administration's interpretation of federal law.
"The Obama administration is bypassing Congress by attempting to rewrite the law and set restroom policies for public and private employers across the country, not just North Carolina. This is now a national issue that applies to every state and it needs to be resolved at the federal level," said Governor McCrory. "They are now telling every government agency and every company that employs more than 15 people that men should be allowed to use a women's locker room, restroom or shower facility."
In his filing, Governor McCrory cited the fact that he has directed state agencies to make a reasonable accommodation of a single occupancy restroom. The state also allows private companies to set their own policies for bathrooms, locker rooms and shower facilities.
On May 4, the U.S. Department of Justice sent a letter to Governor McCrory, Secretary of Public Safety Frank Perry and UNC System President Margaret Spellings that alleged violations of federal law. On Friday, the McCrory administration requested additional time to respond. However, DOJ officials refused to grant that request unless the state agreed to unrealistic terms.
"I'm taking this initiative to ensure that North Carolina continues to receive federal funding until the courts resolve this issue," said Governor McCrory.
Specifically, the filing asks the federal court to declare that the law does not violate federal protections for students or federal workplace discrimination laws.
McCrory had been given a Monday deadline to notify the Department of Justice that the state "will not comply with or implement HB2" or it risks violating the Civil Rights Act and losing hundreds of millions in federal funding because the law is in violation of Title IX and Title VII of the Civil Rights Act.
The NC Department of Public Safety and the University of North Carolina had also been notified they're in violation of Title IX by implementing the law.
Read the lawsuit:
Developing…