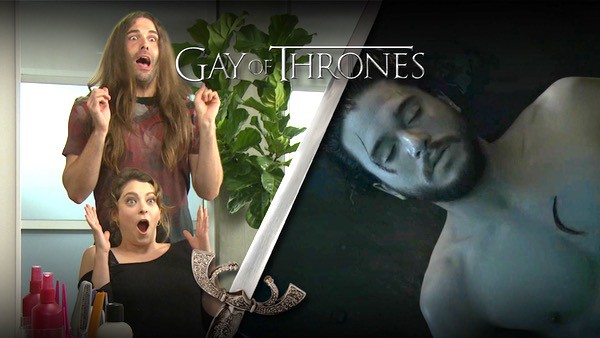 SPOILERS AHEAD. 
It was a big week on Game of Thrones. After enduring countless stories of how Jon Snow was truly, madly, deeply dead, his devotees were brought back to life along with Lord Snow himself with this week's episode. (You know somewhere in Hollywood, Amanda Peet was having a full on happy cry Sunday night.)
To recap Jon Snow's resurrection and everything else that went on Westeros, Jonathan van Ness brought Crazy Ex-Girlfriend's Rachel Bloom on as his guest on his weekly web series Gay of Thrones.
Find out everything that happened with Ms. Cleo Honey, King's Landing Dice Clay, Beefy C3PO, Barefoot Contessa, Brother D, the Bernie Bros, Munch, the Dragons, evil Elijah Wood, the Iron Islands' Ted Nugent, evil Stevie Nicks, and everyone else in Westeros, below.
For more Gay of Thrones recaps, click HERE.