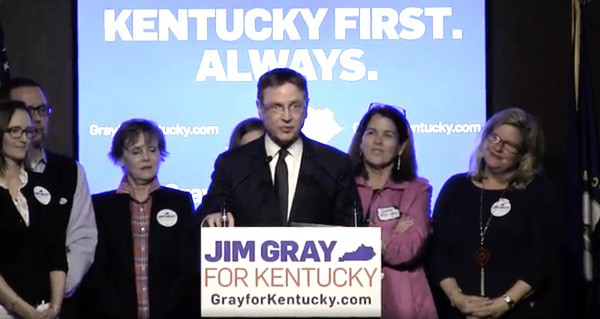 Gay Lexington Mayor Jim Gray won the Kentucky Democratic primary yesterday and will challenge Rand Paul for his U.S. Senate seat. Paul won on Tuesday in the GOP primary.
Paul, a first-term senator and former presidential hopeful, beat two little-known challengers in the Republican primary in a landslide victory. Gray, a two-term mayor, was able to turn back six challengers in a crowded field of Democratic candidates.
The paper adds:
Don Dugi, a professor of political science at Transylvania University, said money may not be Gray's biggest problem heading into the November general election.
Among the other factors: Gray is the first openly gay candidate to run for U.S. Senate. The Republicans won all but two statewide offices in 2015. The state is becoming more conservative. Lexington leans liberal.
"The rest of the state does not look like Lexington," Dugi said. Social conservatives in Eastern and Western Kentucky may not be as open-minded as Lexington voters, he said.
Gray has said that he doesn't think his sexual orientation will be an issue in his first statewide race
Watch Gray's victory speech: