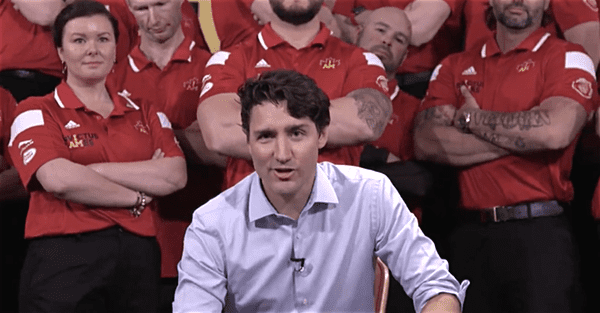 Last week we told you about an amusing fake feud that started online between the Obamas and the Windsors, namely Barack and Michelle v. Queen Elizabeth II and Prince Harry.
It all began with a challenge from the Obamas saying that the Brits better bring it at the upcoming Invictus Games in Orlando, Florida.
Hey, @KensingtonRoyal! Are you ready for @InvictusOrlando? Game on. pic.twitter.com/S34KrEv5Is

— First Lady- Archived (@FLOTUS44) April 29, 2016
Unfortunately for the Obamas, Queen Elizabeth II happened to be around when Harry got the message from Michelle. That left us with the memorable, "Boom, really, please" line from HM.
Unfortunately for you @FLOTUS and @POTUS I wasn't alone when you sent me that video 😉 – H.https://t.co/sjfSQvkzb6

— The Prince and Princess of Wales (@KensingtonRoyal) April 29, 2016
Now, Canadian Prime Minister Justin Trudeau–apparently feeling left out of the love loss contest (hey, Canada is part of the Commonwealth)–decided to get into the beef-stakes with a mic drop of his own: one armed push ups.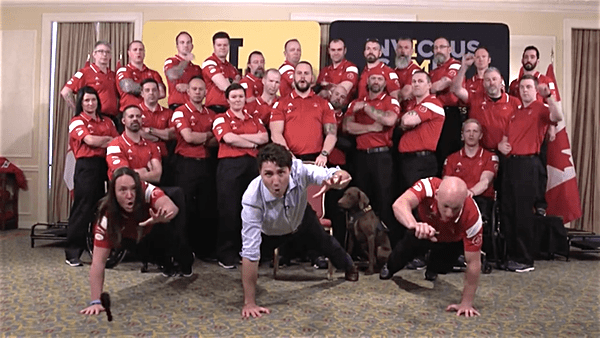 Mic. Dropped.
Watch, below.
https://www.facebook.com/JustinPJTrudeau/videos/10154272240300649/