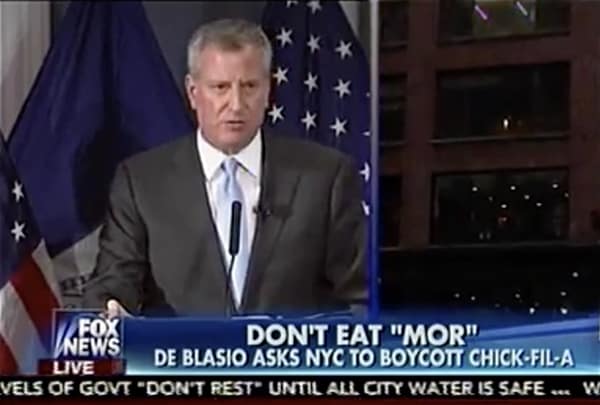 Chick-Fil-A is about to open its fourth branch in NYC, in the borough of Queens, and Mayor Bill de Blasio is urging New Yorkers not to patronize it, DNA Info reports:
"What the ownership of Chick-fil-A has said is wrong," he said. "I'm certainly not going to patronize them and I wouldn't urge any other New Yorker to patronize them. But they do have a legal right."
Also speaking out against the anti-gay chain was Councilman Daniel Dromm:
"Chick-fil-A is anti-LGBT," he said in a statement.
"This group imparts a strong anti-LGBT message by forcing their employees and volunteers to adhere to a policy that prohibits same-sex love.  It is outrageous that Chick-fil-A is quietly spreading its message of hate by funding these types of organizations."
FOX & Friends Steve Doocy went to Chick-fil-A and interviewed a bunch of anti-gay customers.
Watch the repulsive segment:
https://www.youtube.com/watch?v=zFDfeOR4UVo