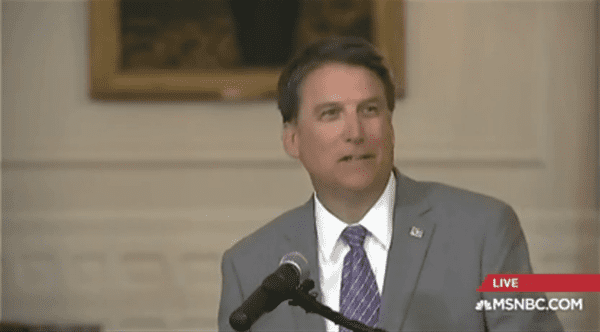 North Carolina Governor Pat McCrory held a news conference on Monday to address his lawsuit against the federal government over the state's anti-LGBT bathroom bill, HB 2.
As we have reported, the Department of Justice last week issued an order to North Carolina demanding it stop enforcing HB 2 because it violates Title IX of the Civil Rights Act. The DOJ gave McCrory until today to respond its order. On Monday, McCrory said he would not accept the DOJ's order and would file suit.
During his news conference — which involved no questions from the media — McCrory again regurgitated the trans predator myth as a justification for enacting HB 2. He also once again blamed the Charlotte City Council for passing LGBT rights protections, a move McCrory said necessitated a response from the legislature.
McCrory blasted the federal government for giving his office a "mere three business days" to respond to its order. Notably, HB 2 was introduced, debated, and passed by state legislators in just one day.
McCrory made an unexpected announcement saying he wants the U.S. Congress to take action to "bring clarity" on anti-discrimination laws across the nation.
White House Press Secretary Josh Earnest responded to McCrory's news conference just moments after it happened, saying, "What the North Carolina government has done is inconsistent with the people of North Carolina and the economy of North Carolina."
HRC President Chad Griffin blasted McCrory for doubling down on his opposition to equal rights.
.@PatMcCroryNC still lying about #HB2 and displaying just how little he understands our nation's civil rights laws.

— Chad Griffin (@ChadHGriffin) May 9, 2016
Watch the speech, below.