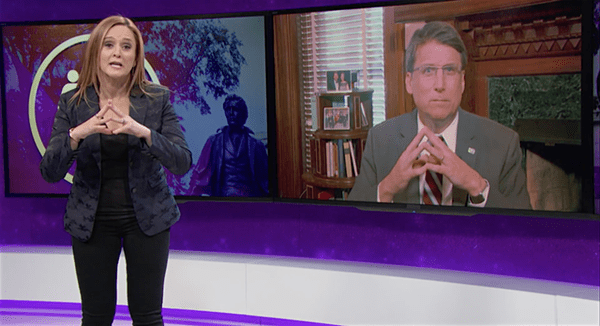 Samantha Bee blasted North Carolina's so-called bathroom bill, HB 2, and the governor who signed it, Pat McCrory, on her show Full Frontal this week.
Said Bee, "Fans of not being able to go to the bathroom without your birth certificate scored a victory when North Carolina's governor signed HB2, which addressed the state's urgent problem of LGBT people not being discriminated against enough."
Bee also called Governor Pat McCrory a "middle-aged potty prefect" and added her name to the list of performers who will be boycotting the Tar Heel state: "I should add, until North Carolina lets trans people urinate in peace, I will not be bringing my 10-hour concert of Beyoncé covers to Raleigh."
But Bee has a broader point to make about the dire straits North Carolina finds itself in, one that has its origins in 2010.
Bee quipped, "Boycotts are a powerful tool, but you know what is even a more powerful tool? Not electing a bunch of transphobic numbnuts who are going wreck the state economy to catch a nonexistent predator."
Bee points out that many of North Carolina's current problems, beyond even the debacle over HB 2, can be traced to the disastrous 2010 midterm elections when liberals and moderates stayed home and let right-wing nuts run the table.
That year, North Carolina got a Republican legislature for the first time since 1870, leading to all kinds of new conservative laws—including easier access to guns and less reproductive rights. They even passed a law that lets local election boards move polling places off of college campuses to suppress the youth vote.
Bee drove home the importance of mid-term elections, saying,
"Look, I know state elections aren't fun. They don't have cool concerts or 'dank memes,' but voting in them is important. Just think of it like a mammogram. It's painful and inconvenient but you've got to do it because early prevention hurts a lot less than late-stage treatment."
Watch, below.