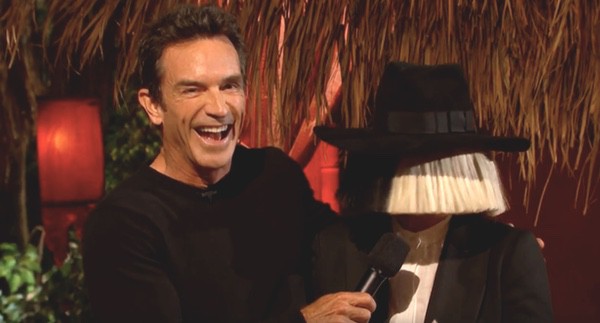 [SPOILERS]
Survivor is known for its twists and surprises, and last night's finale was no different. There was a surprise wig-wearing guest at the reunion show who emerged from the audience at one point: Sia, the Australian pop phenomenon who won't show her face, and didn't last night.
Towleroad readers might recall Tai Trang, the 51-year-old gay gardener who fled Vietnam with his family during the war, survived 11 days on the open ocean, and ended up in an Indonesian refugee camp, and this year became one of the season's most intriguing characters, and finalists.
Tai is also an animal lover who protected one of the show's chickens for an entire season so it wouldn't be devoured by his starving fellow castaways.
Sia, a fellow animal lover and massive Survivor fan, was so impressed by Tai's authenticity and care for animals, that she donated $50,000 to Tai and another $50,000 to his choice of animal charity.
Watch:
https://www.youtube.com/watch?v=YR4HNjVGsj4
In an interview with EW, Jeff Probst reacted to the Sia surprise – and it was a total surprise.
Sia and Probst are friends, so he says he just went with it when she started getting up from her seat, but he had no idea what was in store:
Then she started walking toward me and my mind started racing. All I was thinking at that moment was, We don't have a camera on her, she doesn't have a microphone. Then I think I went a bit into autopilot. Okay, this is happening, so just go with it and tell the story.  I knew I needed to explain that Sia and I were friends and that this really was Sia. After that. I just let her take over. Once I heard her start talking about how inspired she was by Tai and his approach to life and all living things I started to understand the moment. This is the woman I know. Sia is the most "in the moment" person that I know. She just does what she feels and says what she means. Like it or not.
Probst adds:
But here's the most salient fact regarding Sia: I honestly don't think of Sia as a pop star, even though she is a global phenom. I know her as my friend who is so passionate about the rights of all humans and animals. Whether it's LGBTF organizations or a random chicken on Survivor, Sia is someone who really cares deeply about equal rights and being a good person regardless your status in life. She's a really kind soul who happens to write amazing music.