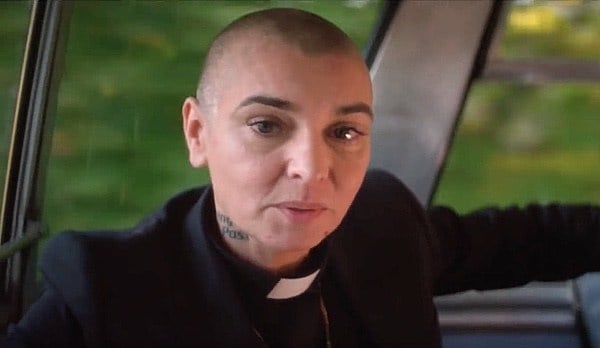 UPDATE: Sinead O'Connor has been found safe.
A press release issued at 1:45 p.m. said the Irish singer had been located, but offered no further details about where she was found or where she had been in the more than 24 hours since she was last seen.
Earlier…
Sinead O'Connor has been reported missing after going on a bike ride Sunday and police have confirmed they are trying to determine the singer-songwriter's whereabouts, ABC News reports:
The "Nothing Compares 2 You" singer was last seen yesterday in the suburb of Wilmette. According to the Wilmette Police Department, "O'Connor reportedly left the Wilmette area for a bicycle ride yesterday at 6:00 AM and has not returned. A caller has expressed concern for her well-being and no other information is available at this time."
…Shortly before the bike ride, O'Connor posted on Facebook about her son Jake. "Do not abandon your brother or any other of my babies again," she wrote in a rambling post.
…A rep for the singer added that there's no information about O'Connor "at this time. But, will keep you posted."
Wrote O'Connor in the Facebook post:
Jake, kindly go to the court on Tuesday and take custody your brother from Tusla. My lawyer will be making the illegal way yourself and Donal got him into Tusla (lying to the cops etc) known to the judge. expect to be in trouble. In fact you'd best bring a lawyer of your own. And do not abandon your brother or any other of my babies again. What you have done to your brother and your mother is LITERALLY criminal.
Last November, O'Connor was given medical assistance after posting an unhinged message to Facebook claiming that she took an overdose.
She recently accused comedian Arsenio Hall of supplying Prince with drugs, and Hall responded by suing her for $5 million.