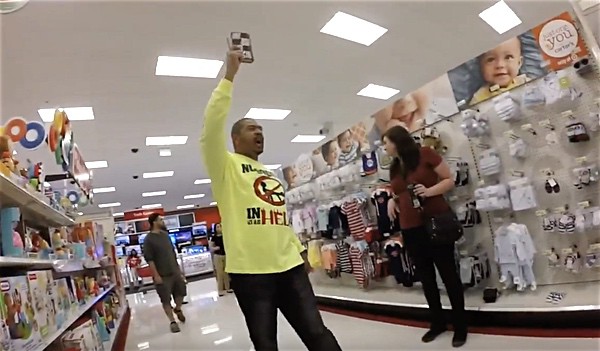 Anti-LGBT Bible-bearing Christians entered Target stores in Tennessee, Illinois, and Oregon this week telling customers they need to repent for shopping there because of the transgender bathroom policy.
Here's a video from Portland, in which the Bible beater parades around the Target store screaming at people.
Watch:
https://www.youtube.com/watch?v=SG8aaHx4TJQ
Says the man:
"Target this is your wake up call. The Bible says that from the beginning God made them male and female. He didn't make them transvestites. He made them male and female…Target, this is your warning. You will be judged according to God's standards. Not man's, but God's…You need to repent…You will be judged. And if there are Christians in here, supporting this abomination, shame on you! … But you justify this place. You have to stand by the bathrooms because perverts can go in there. Because transvestites allowed."
The customers aren't amused, many of them telling him to "shut up and leave."
In Bradley, Illinois one of these "Christians" put a mall on lockdown and prompted a massive police response because store shoppers thought the man was an "active shooter", NBC Chicago reports: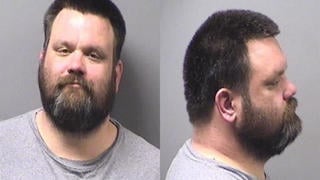 Michael Merichko was charged with disorderly conduct following a disturbance inside a Target store at 1615 N. State Route 50 in Bourbonnais, about 55 miles south of Chicago, according to the Bradley Police Department.
Merichko was allegedly protesting Target Corporation's newly announced policy on letting transgender people use the bathroom that conforms to their identity. Police said his actions caused "panic among store employees and customers."
Just after 1 p.m., multiple police agencies responded to the Target after receiving a 911 call about an active shooter inside the store, according to authorities.
Watch:
And here's another in Tennessee.
"Wicked. Wicked. It's time to repent," he yells. "Rip up your target cards. It's time to get rid of the rainbow. The rainbow belongs to God, not to you. Target is the lowlife of places to work. You need to repent. Homosexuals shall not inherit the kingdom of God!"
And here's another sicko (I believe he's in St. Louis):
https://www.youtube.com/watch?v=i3jZec5nWDw
https://www.youtube.com/watch?v=8tYwJaxGjIg