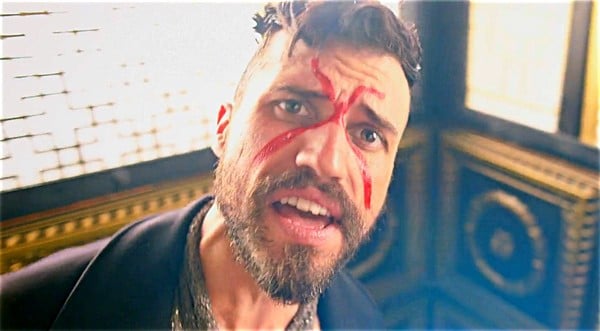 Tyler Glenn, the Neon Trees frontman who in 2014 came out as gay, has issued a shark rebuke of the Mormon Church in his new music video, "Trash."
In the clip for the biting electro-pop track, Glenn is first seen drinking straight from a liquor bottle, though alcohol is forbidden by Mormonism. As he sings the song, the musician is surrounded by Mormon imagery, including altered portraits of the church's founder, Joseph Smith. "One man's trash is another man's treasure," he sings during the song's chorus, which he tells Rolling Stone is meant to be a reflection of a "violent relationship."
Glenn reveals that after struggling to reconcile his Mormon faith with his sexuality came to a head 6 months ago when the LDS Church declared that Mormon faithful in same-sex relationships are "apostates."
Glenn said, "I always tried to make being gay and being Mormon work." But in the end, it didn't:
"My entire life and perspective on God, the afterlife, morals and values, my self-worth and my born sexual orientation has been wired within the framework of this religion that doesn't have a place for me." […]
"I served [this church]. I was the square peg trying to fit into the round hole. I believed it till six months ago."
Of the Mormon Church's new anti-gay policy, Glenn adds,
"The big problem here is that they claim it's the only truth. There have been over 40 suicides within the church as a result of this policy. These aren't just grown men and women. Many are children. It's backwards. It's not of God. I needed to make this statement to artfully show the pain of a faith crisis and the darkness of doubt, but also that there's ways to reclaim what is yours."
This being Glenn's first solo effort, fans can look to expect more from him:
Glenn is promising a full solo album in the future that will address this same faith crisis through a lens of "celebration." He describes his music sans Neon Trees as "more adventurous" and "aggressive." Even though he's exploring a career on his own, Neon Trees are not over, and his band supports his creative endeavor. "I'm not sure if they totally support the content," he adds. "I haven't played or showed them much. I do love them and hope that this record doesn't change things negatively, but other than that, I feel fearless about it."
Watch, below.