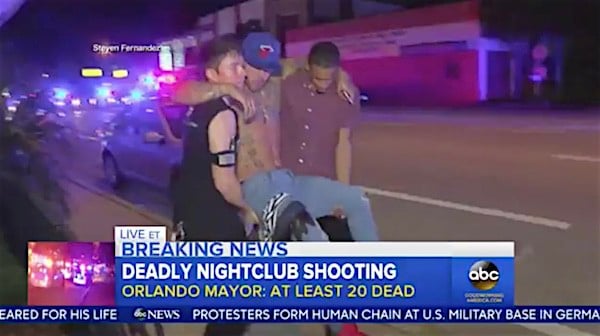 Developing (refresh for updates)…
A "domestic terror" incident at Pulse, a gay Orlando nightclub has left at least 50 dead and more than 53 injured after a gunman with an assault rifle , a handgun, and a "suspicious" device opened fire. An earlier report listed the number of victims at 20 and 42 injured. Police raised the death toll at a mid-morning news conference.
Approximately 320 people were inside the nightclub at the time of the shooting. Pulse is located at 1912 S. Orange Ave.
The incident reportedly began around 2 am. In a press conference earlier this morning, Orlando Police Officer John Mina said that the suspect, now deceased, "exchanged gunshots with an officer working at the club, then went back inside and took hostages around 2 a.m. About three hours later, a SWAT team made the decision to go inside and rescue the hostages. The shooter died in a gunfight with those officers."
The shooter has been IDed as Omar Mateen a U.S. citizen from Port St. Lucie, Florida.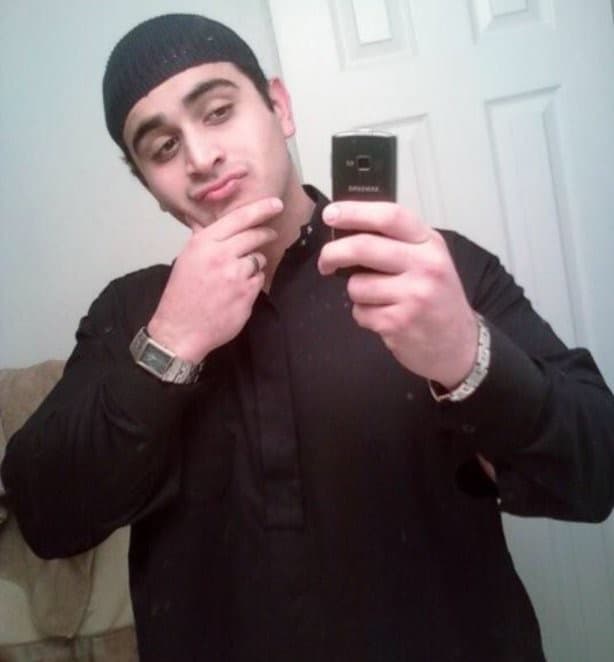 Mir Seddique, Mateen's father told NBC News, "this has nothing to do with religion." Seddique said his son got angry when he saw two men kissing in Miami a couple of months ago and thinks that may be related to the shooting.
"We are saying we are apologizing for the whole incident. We weren't aware of any action he is taking. We are in shock like the whole country," Seddique said.
Meanwhile, a man who answered the phone at Mateen's address, Mustafa Abasin, told NBC News: "We are in shock and we are said." He would not say how he knew Mateen, but said he was helping investigators.
TMZ reports that Mateen "held a Florida security officer license and a state firearms license."
President Obama was briefed on the incident, the White House reported at around 9:15 am this morning.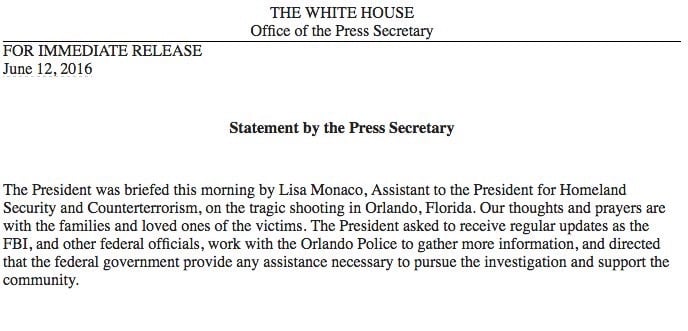 Hillary Clinton responded shortly thereafter:
Woke up to hear the devastating news from FL. As we wait for more information, my thoughts are with those affected by this horrific act. -H

— Hillary Clinton (@HillaryClinton) June 12, 2016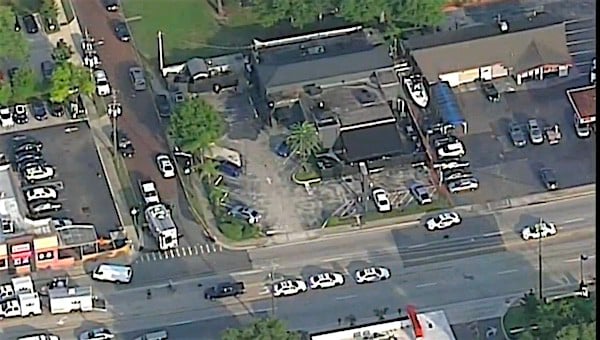 During a press conference Sunday morning, Florida Department of Law Enforcement spokesman Danny Banks officially classified the shootings at Pulse Nightclub as an "act of terrorism."
The FBI, along with numerous other agencies, was investigating the shooting and it was not clear if it was an act of domestic or foreign terrorism. There was no indication that more shootings were planned in Orlando or the state of Florida, Banks said.
During the same press conference, Orlando Mayor Buddy Dyer confirmed that numerous people were killed during the attack.
"Tonight, we had a crime that will have a lasting effect on our community," he said.
Orlando Police Chief John Mina said the department was currently working to remove any "devices" the shooter may have left behind. An OPD officer working at Pulse was the first to respond and exchange gunfire with the shooter, Mina said.  The shooter holed up in a bathroom with hostages and at about 5 a.m. "the decision was made to rescue the hostages that were in there," Mina said.
During the assault, "our officers shot the suspect," he said.
The suspect "had a device on him," prompting a search for others that may be at the scene, he said.
The FBI says there are "suggestions" that the shooter had ties to radical Islam:
FBI: There are "suggestions" shooter at Orlando nightclub had radical Islamic leanings https://t.co/KoOkTZCAbR https://t.co/hGyZRFXWZk

— ABC News (@ABC) June 12, 2016
The police classified the attack as a "terror incident., Local and federal authorities were investigating, and the F.B.I. set up a hotline number for tips. The police and the federal authorities said they were pursuing several angles in the terrorism investigation, both overseas and in the United States.
The gunman was not from the Orlando area and was organized and well-prepared, the police said.
Here is a large part of the press conference earlier today:
https://www.youtube.com/watch?v=VVnqEW4xpn0
It is unclear whether the nightclub was specifically targeted because it is a gay nightclub, but that is one point under investigation.
Was Orlando shooting club targeted for being a gay nightclub? Police "just don't know that," @PeteWilliamsNBC sayshttps://t.co/cALRnGLGzr

— TODAY (@TODAYshow) June 12, 2016
Counselors are being called in to help victims and friends of victims, the Orlando Sentinel reports:
Counselors being called in to help victims and friends after the Pulse nightclub shooting, says Terry DeCarlo, director of the Gay, Lesbian, Bisexual, Transgender Community Center of Central Florida…
…At the LGBT community center, DeCarlo and his staff were on the phones calling counselors from around Orlando to come in and help victims and friends of victims, and anyone who was at the club.
Six counselors were headed to The Center on North Mills Avenue to start offering help.
He said Orlando has seen its share of hate crimes "but nothing like this."
As soon as we have any information we will update everyone. Please keep everyone in your prayers as we work… https://t.co/3EY0fQ926m

— Pulse Orlando (@pulseorlando) June 12, 2016
One witness who was at the nightclub describes the scene:
Witness describes chaotic scene at Orlando nightclub: "He was shooting everywhere." https://t.co/S9TMfGobhu https://t.co/P91vpE1rVb

— Good Morning America (@GMA) June 12, 2016
One mother pleaded for information about her son outside the club:
A mother pleads for information on her son in the aftermath of the Orlando nightclub shootinghttps://t.co/vLTZsxklpF

— RTÉ News (@rtenews) June 12, 2016
Orlando Mayor Buddy Dyer tweeted:
Our community experienced a horrific crime today. Our hearts & prayers are with the victims and their families.

— Mayor Buddy Dyer (@orlandomayor) June 12, 2016
Despite the fact that tonight's crime will have a lasting effect, we are a strong community.

— Mayor Buddy Dyer (@orlandomayor) June 12, 2016
The actions of the first responders and hospitals have saved many lives.

— Mayor Buddy Dyer (@orlandomayor) June 12, 2016
Here's live coverage from WTSP:
Numerous videos posted to social media showed a a frantic scene swarming with police officers.
Gunshots could be heard in one video. A person behind the camera said it seemed like the attackers were exchanging gunfire with police.
Cell phone videos show the chaotic scene outside Pulse as the incident unfolded:
Shooting at Pulse Nightclub on S Orange. Multiple injuries. Stay away from area. pic.twitter.com/5Di2mc6XUY

— Orlando Police (@OrlandoPolice) June 12, 2016
Here is more terrifying video of the gunfire exchange:
Gunfire exchanged at #pulse nightclub hostage situation in #Orlando. pic.twitter.com/qeF0s6Ien6

— Nic Hornstein (@nichornstein) June 12, 2016
Medics were seen attending to victims on the sidewalk.
https://www.facebook.com/savagevanity/videos/10154316158744479/
Walking to ORMC now. I'm ok. Friend got shot. I've never seen so much blood and mayhem or been so scared ever. pic.twitter.com/KyGhQGmWWQ

— John PA (@lakecitymedman) June 12, 2016
Dozens of witnesses in #pulseshooting bussed to @OrlandoPolice headquarters for questioning.@WFTV pic.twitter.com/Jay6mDa9aH

— Roy Ramos (@RramosTV) June 12, 2016