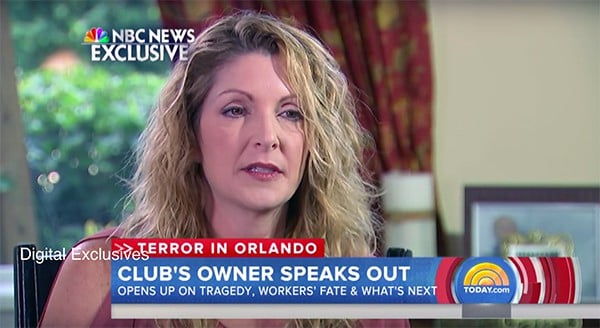 Barbara Poma, the owner of Orlando's Pulse nightclub, where the horrific mass shooting took place on June 12, along with the club's entertainment manager Neema Bahrami, will ride on the lead float in NYC's Pride Parade this Sunday, the NY Daily News reports:
Also, in memory of all those lost in the June 12 massacre, their names will be read, followed by a moment of silence, a spokesman for NYC Pride said…
…At Sunday's parade, the lead float will be surrounded by a color guard carrying 49 orange flags, each with a rainbow stripe, to remember the victims, organizers said. Marchers will follow directly behind, carrying banners, reading #WeAreOrlando and #SomosOrlando.
Police detail is going to be increased for this year's event because of the Orlando shooting:
"We will out of caution be increasing the size of the police detail this year, with some degree of focus that we might not have had in years past on the issue of terrorism — certainly in light of the event in Orlando," Police Commissioner Bill Bratton said.