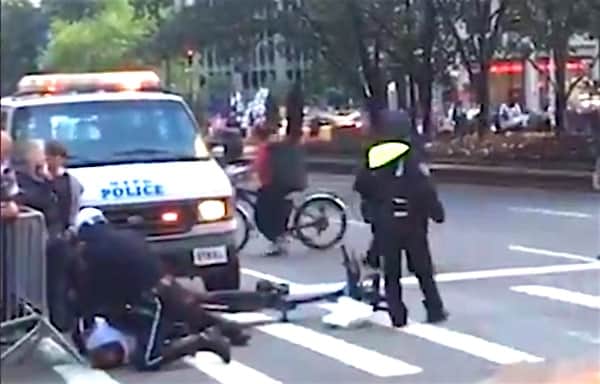 Daniel Provencio, a 59-year-old gay man, was blasting Carly Rae Jepsen's "Call Me Maybe" through his headphones on the way to hook up with someone he met on an online dating site when he was tackled in front of President Obama's motorcade, apparently oblivious that he was about to enter a barricaded zone on 50th street, TMZ reports:
Daniel was coy about date specifics, but suffice to say the other guy lost interest because Daniel was hours late after being interrogated by authorities.
Daniel called the guy when he was released, but, as he puts it, "Manhattan men are huge on punctuality."
Watch:
Provencio did not appear to be resisting during the encounter. He was issued a summons for disorderly conduct, police said.
"Why does the cop with the helmet need to come in like that?" an Instagram commenter wrote.
"The poor guy obviously was confused. No need to come in and shove him to the ground like that. I'm sure if they spoke to him he would have cooperated anyway."
https://www.instagram.com/p/BGaSn7pwHb-/
(h/t/ jmg)