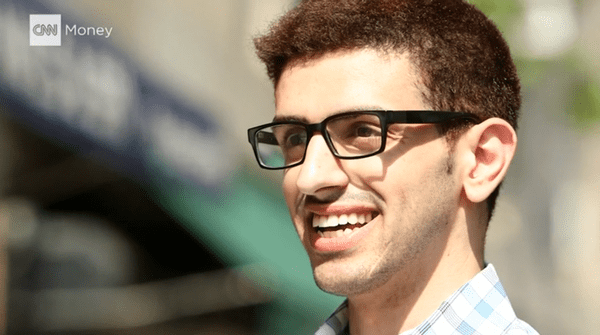 The gay grandson of one of the founders of the terrorist organization Hamas has found refuge in the United States after a protracted battle to avoid being deported to a certain death at the hands of his family in the Middle East.
We first told you about John Calvin and his fight to avoid being deported from Canada last summer. Calvin fled to Canada from Palestine at the age of 14 when he learned his father was going to participate in an honor killing. Calvin says his uncles have both been involved in terrorist actions and are constantly in and out of jail. Calvin didn't want anything to do with Hamas, though, and once safe in North America, he came out as gay.
Unfortunately, Calvin was not able to win his legal fight to remain in Canada. Rather than face certain death in Palestine, he fled to the U.S. "I decided the best course of action was to flee home and come to the U.S. rather than be deported and sent to my death," Calvin said.
After being arrested by American border patrol agents and being detained for 7 months, he was ultimately granted permission to stay in the U.S. because his father had told CNNMoney in an interview last year that he and his family have "the right to retaliate against" Calvin if he were to return.
The immigration judge dismissed Calvin's application for asylum in the United States, but according to Calvin, used his father's admission to CNNMoney as evidence to grant him deferred removal under the UN Convention against Torture.
"He does believe, evidently, that I will be under threat of torture and death, and thus I should be granted protection under the convention against torture," Calvin says.
"The judge has found it would be against our law to deport him, even though he's not eligible for any form of discretionary relief," Eli Echols, immigration attorney with Socheat Chea, P.C., told CNNMoney.
According to Echols, while Calvin won't be deported, he can't become a permanent resident, but can apply for a work permit on a yearly basis, which will enable him to get a social security number.
Calvin was not able to apply for asylum status in either the U.S. or Canada because of his family's ties to terrorism.
Calvin says he believes in the American dream and is already fantasizing about his version of it, which involves a law degree, a husband and two kids.
Now living in New York, Calvin can live openly gay without fear of retribution. "It's like gay Bethlehem," he says of the city. He also adds that the historic Stonewall Inn was the first place he came to in New York. "It was liberating."
Watch a news report from CNNMoney, below.
[h/t Towleroad reader philrosenkranz]