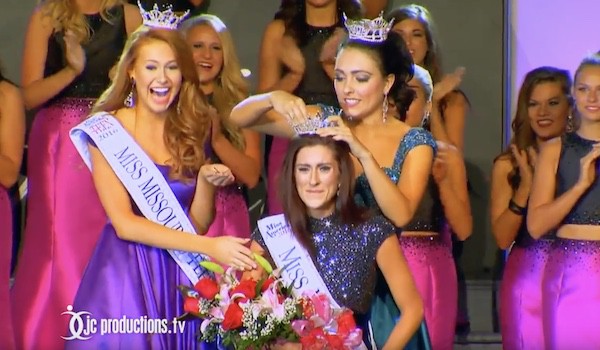 The Miss American pageant has its first-ever openly gay contestant, as Erin O'Flaherty, an out lesbian, was crowned Miss Missouri on Saturday.
O'Flaherty told the AP in an interview that she came out at 18, and knew that if she won the competition it would be groundbreaking:
"I'm on cloud nine really just to be Miss Missouri," she said. "I don't know that I intended to be the first, but I am. So I'm very excited about it."
O'Flaherty believes she also will be the first openly gay woman to compete in the Miss America scholarship pageant, which is scheduled for Sept. 11 in Atlantic City, New Jersey. A spokeswoman for the Miss America pageant didn't immediately return a call seeking comment Wednesday.
O'Flaherty has chosen suicide prevention as her platform. She says that while she will be talking about her sexual orientation and "raising awareness for the LGBT community" she says it won't be the focus of her year.
Watch O'Flaherty's crowning moment: