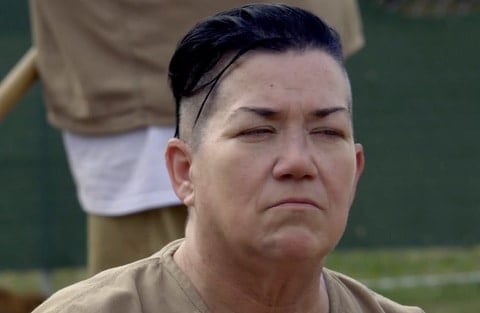 Orange is the New Black star Lea DeLaria wants to replace LGBT with the word 'queer' because she says the acronym is divisive.
In an interview with Pride Source, in which DeLaria also discusses the upcoming fourth series of Orange is the New Black, the reason she has turned down many lesbian roles, and being the first out gay comedian on TV, she says:
"This is the biggest issue we have in the queer community to date and will continue to be the biggest issue until we learn to accept our differences, and that's the issue. And part of me believes that this inclusivity of calling us the LGBTQQTY-whatever-LMNOP tends to stress our differences. And that's why I refuse to do it. I say queer. Queer is everybody."
On her history-making appearance as the first openly gay comic to perform on American TV on The Arsenio Hall Show in 1993, DeLaria added:
"The lawyers called Arsenio in and said, 'We don't think you should let this go out.' They were trying to pull it and Arsenio – again this is the lesser story that people don't know – had a fit and said, 'She's a dyke. If she wants to call herself a dyke then it's none of your f**king business.' He fought for it and got me on the air. The lawyers at Fox were saying, 'Noooo. It was a big deal at the time; now it's ho-hum. But back then it was huge. You gotta remember, Ellen (DeGeneres) wasn't out yet. Rosie (O'Donnell) wasn't out yet. None of these guys were out yet."
Series four of Orange is the New Black premieres on June 17th.
Watch a trailer below.
https://www.youtube.com/watch?v=c6O9rfoz0f8