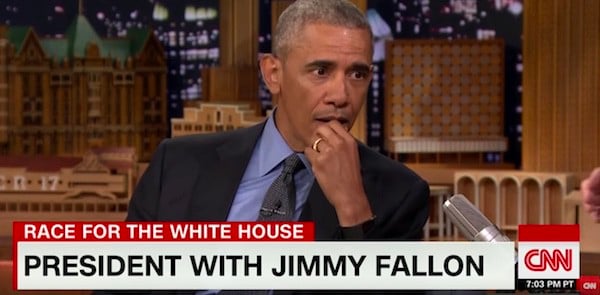 President Obama is set to appear on The Tonight Show with Jimmy Fallon tonight. The episode was taped yesterday, and Don Lemon was offered a clip to preview on CNN.
Said Obama when asked if Bernie Sanders plans to endorse Hillary Clinton:
"I'm sure they're going to have a conversation," adding, "The main role I'm going to be playing in this process, is to remind the American people that this is a serious job. This is not reality TV."
When asked by Fallon if he thinks Republicans are happy with their choice of Trump, Obama responds, "We are."
Added Obama: "That was too easy. Actually, I am worried about the Republican party, and I know that sounds….uh…you know what that sounds like.
Watch:
Sanders is set to meet with Obama today. CNN reports:
Sanders will meet with President Barack Obama in their second White House sitdown this primary season and the fourth time they've spoken in the last month. Aides said Obama would work to move Sanders toward an acceptance of Clinton as the nominee.
An aide to Joe Biden says the vice president "plans on speaking to both (Clinton and Sanders) in the near future," but Biden will not be at the Sanders-Obama meeting. He also won't offer any endorsement before those conversations, the aide said.
In their meeting, Obama won't directly ask Sanders to exit the race, and senior Democrats say it's unlikely Obama will make any joint appearances with Clinton before next week's primary, the final nominating contest this year. However, a formal Obama endorsement could come earlier — perhaps as early as Thursday — though not before Obama sits down with Sanders.
While it's unlikely that Sanders emerges in full support of Clinton, White House officials hope Obama can prod the Vermont senator toward eventually acting as a unifying figure for the Democratic Party.