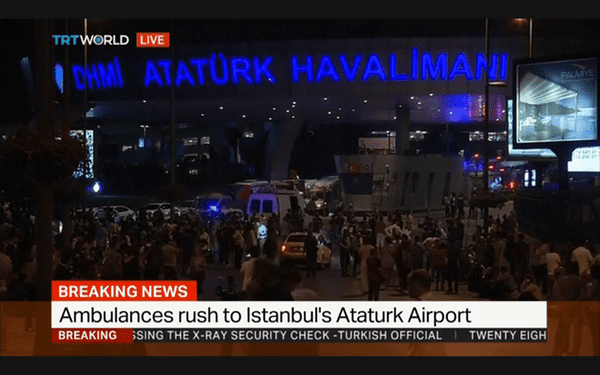 At least 28 people have died and 60 have been injured in an apparent terrorist attack on Istanbul's Ataturk airport.
An official told Turkish state broadcaster TRT that two attackers opened fire with machine guns and detonated suicide belts outside the international terminal before passing the first security checkpoint.
Later the governor of Istanbul said that there were three suicide attackers.
The attack took place at around 10 p.m. local time which is a busy time for the airport with flights arriving from Europe and leaving for the Persian Gulf and other parts of the region.
A senior U.S. official announced shortly after the attack that all scheduled flights to and from Istanbul have been temporarily suspended.
BREAKING: At least 28 reported dead in suicide attack at Ataturk airport: Istanbul governor pic.twitter.com/k1oI4LPYrp

— Reuters (@Reuters) June 28, 2016
Atatürk havalimanında patlamalar silah sesleri pic.twitter.com/EqAz8TUuLK

— Rüçhan Kayrım (@ruchankayrim) June 28, 2016
Vasip Şahin, the governor of Istanbul province told the NTV news channel that 28 people had died, and said that authorities believe three suicide bombers were involved, because there were three separate explosions.
Another Turkish official told the Guardian that the suspects blew themselves up outside the security checkpoint at the entry to the international terminal, after police opened fire on them.
A spokesperson for the Istanbul police said that "a bomb exploded at the airport and there are many casualties", adding that the exact number is not yet known.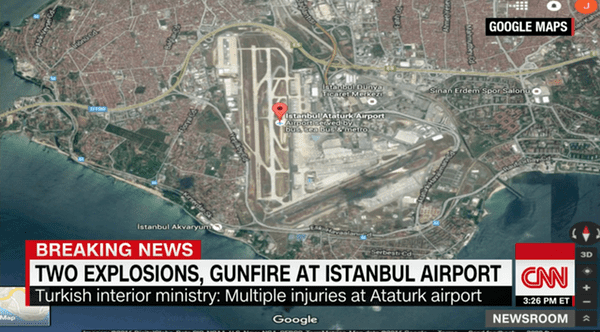 You can watch video from the airport, including some surveillance video which allegedly shows the explosion. Be cautioned that some of the videos are graphic.
Unconfirmed – CCTV-footage from Istanbul Ataturk airport, allegedly showing gunman being shot and detonating a bomb. https://t.co/CLEgygglDh

— BREAKING.UK (@BreakingDotUK) June 28, 2016
JUST IN: Video shows people hiding inside a store at Istanbul's Ataturk Airport after blasts https://t.co/XEB0HSGmzYhttps://t.co/dJgewfIn8b

— CNN (@CNN) June 28, 2016
Live stream coverage, below.
UPDATE: 
#BREAKING: Sr. US official tells @RichardEngel "very likely" #IstanbulAttack was work of 35 terrorists ISIS sent to Turkey ahead of Ramadan

— Kate Snow (@tvkatesnow) June 28, 2016