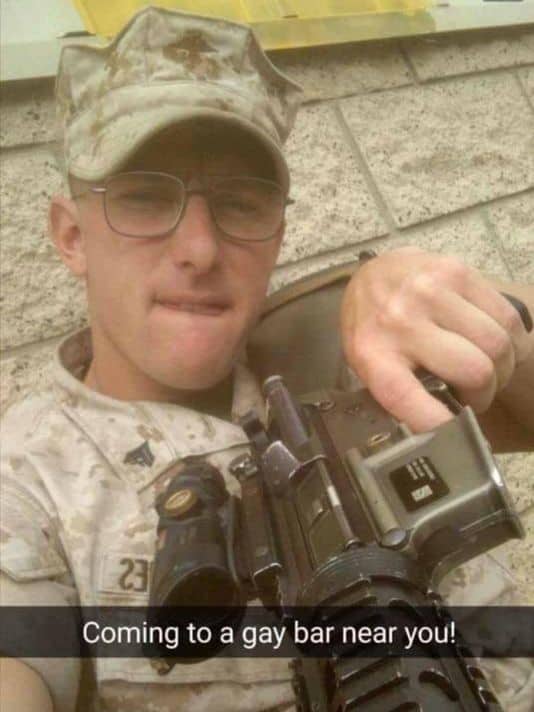 Two active duty U.S. Marines are under investigation for a post to a Facebook group featuring a photo of a Marine with his finger on the trigger of an assault rifle (above) accompanied by the caption "Coming to a gay bar near you!"
The picture was posted recently to Camp MENdleton resale, a closed Facebook group for male Marines with more than 25,000 members. The person who purportedly posted it also wrote "Too soon?"
First Lt. Thomas Gray, a spokesman for I MEF, told Marine Corps Times that the command has identified the Marine in the picture and the one who posted it on Facebook.
"We cannot discuss details of an ongoing investigation, but I can tell you the command is taking this incident seriously," Gray said.
Marine officials have vowed to take "appropriate action" in response to the social media post, according to a statement released by I MEF.
The head of the Facebook group told the Marine Times that the post was deleted soon after it was reported.
This morning Towleroad reported on the threat of an Orlando-style attack on gay bars in San Diego which was posted to Craigslist and which police said they were taking very seriously.
The post read: "Orlando was long overdue. Cleanse your community of the filth that gives decent gay men and women a bad name. Those people were walking diseases, bug chasers, and thank god for AIDS and 9-11 and now Orlando. San Diego you are next …"
According to Gray there are no indications yet that the two threats are linked.
(Photo Facebook via Marine Times)