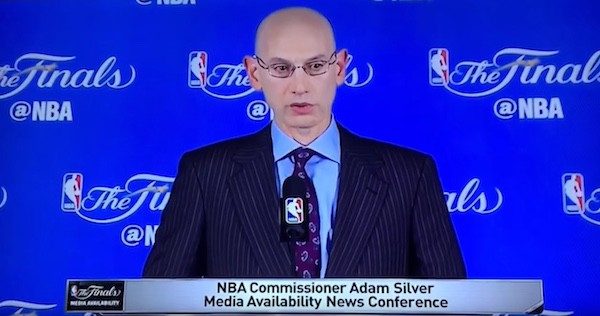 At a press availability before Game 1 of the NBA Finals last night, NBA Commissioner Adam Silver expressed optimism that the NBA would reach some compromise with government leaders in North Carolina ensuring protections for the LGBT community so the All-Star Game could happen in Charlotte next winter but said the league must see changes before summer's end, according to USA Today.
Silver said the discussions are "ongoing:"
"I was in North Carolina about two and a half weeks ago and i spoke to a lot of business leaders in Charlotte who are working behind the scenes frankly to crafts some sort of compromise with the governmental leaders both in the city and the state. I would say there is absolutely strong interest in trying to work something out."
Silver said the economic damage HB2 has caused is a motivator in discussions.
"Both sides of the issue recognize, however heartfelt their views are, that the current state of being is causing enormous economic damage to the state. I think they realize that we very much would like to play the All Star Game in NC. As I sad before, we of course have a team in Charlotte so we as the league want to make sure there is an environment in which the lgbt community feels protected down in NC."
Silver said elements of HB2, like the bathroom issue, have obviously grown into a national debate:
"At the same time I also think that the bathroom issue frankly has become a little bit of a distraction. From the very beginning that was not the core issue here it was protection for the lgbt community in terms of economic rights personal rights, and the bathroom bill became part of it. It's my feeling at this point given that that issue has attracted so much attention from the DOE, the DOJ , from lawsuits now pending in the federal courts, that that issue is now much much bigger than Charlotte and NC and the NBA. And I think especially when it comes to schoolchildren those are issues that need to be worked through by experts. And will be worked through by experts and the courts."
But he sees optimism for a compromise on other issues.
"I think there are other fundamental issues that we can work through with the community to ensure those basic protections are given to the LGBT community. If we can make progress there we will see you all in Charlotte next February."
Silver has said that the All-Star Game will be moved unless HB 2 is changed from its current form.
Watch his press conference last night: