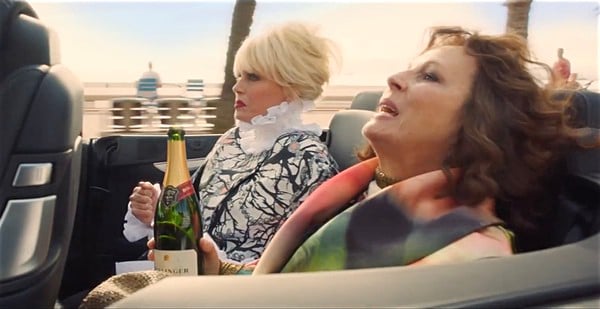 Absolutely Fabulous: The Movie is headed to theaters this summer and its stars, Jennifer Saunders and Joanna Lumley gave an interview to V magazine on a variety of topics, one of them being the show's relationship with LGBT people.
And Lumley dropped a bomb about her character Patsy Stone:
Actually, the best thing about the show was just how wildly offensive it was, with its frank depictions of abuse, alcoholism, and fashion tokenism (punctuated by Edina's enduring tagline, "Sweetie darling"). Despite this, or perhaps because of it, when re-watching the series, it's striking that the universe they created is almost entirely populated by women and LGBT people. This idea gives the creators pause.
"We tried very hard," says Saunders, "but [gay people] refused to be offended—and I admire them for that. Thank God you're hanging on in there."
Lumley takes a more serious tone. "You go back and pick through it, the amount of gay references and ease with which it's been put into the story, without it being dragged along like a great log of plot. It's really normal that one of [Edina's] ex-husbands now lives with his young boyfriend. It's completely normal that [Edina] wants Saffy [Edina's long-suffering daughter] to be a lesbian or that Serge [Edina's long lost son] is gay and living in New York. It's completely normal that Patsy is transgender."
It's unclear how this revelation will play out in the film, which hits theaters on July 22.
The Absolutely Fabulous movie trailer arrived last month with a bundle of cameos and Pats and Eddy fleeing London after killing a supermodel.
The trailer features just a few of the other big names in the film: Jon Hamm, Rebel Wilson, Kate Moss, but there's also Gwendoline Christie, Cara Delivingne, Chris Colfer, Kim Kardashian West, Joan Collins, Dawn French, Jerry Hall, Emma Bunton, and Eddie's old favorite, Lulu.
Watch the trailer: