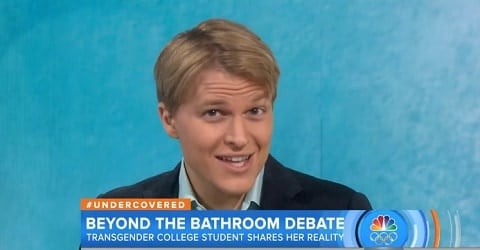 Woody Allen's son Ronan Farrow has tackled the subject of being a transgender college student in the latest installment of Undercovered on NBC's Today.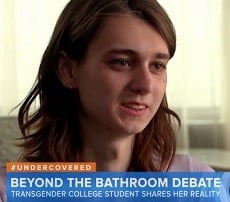 Farrow has previously spoken out against GOP efforts to repeal Maryland's transgender rights laws. He has also examined the ban on transgender military service.
Last year, Farrow interviewed transgender Notre Dame student Eve (right) about living as a transgender teen. In his latest piece, he follows up on Eve's life as a transgender person in an all-male dorm.
In the segment, Eve says that she is "safer using a women's restroom than a men's restroom."
https://twitter.com/RonanFarrow/status/737978072364941312
After repeatedly asking to be moved to an all-female dorm, Eve moved to off-campus housing in order to "be able to be herself," says Farrow.
Eve added: "I expect the university is hoping as soon as I leave, no one will ever try this again."
Watch the segment below.