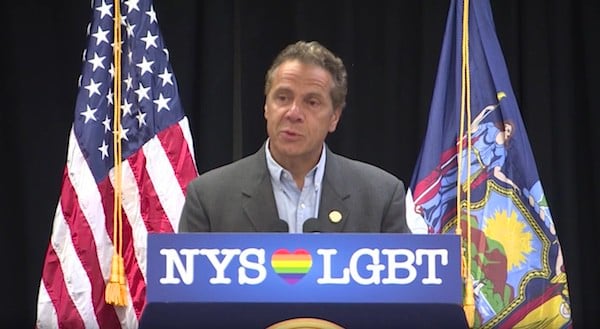 New York City is planning to design and erect a memorial to the victims of the Orlando massacre and other "victims of hate, intolerance and violence," and Governor Andrew Cuomo has committed $1 million in funding, he told a group ahead of the city's Pride parade on Sunday,
A commission made up of gay rights organizations like the Gay Men's Health Crisis, the Hetrick-Martin Institute, the Anti-Violence Project and the LGBT Center, along with former City Council Speaker Christine Quinn and transgender rights activist Melissa Sklarz, has been formed by Gov. Andrew Cuomo to explore its design and placement…
…The 10-person commission will select the artist and the design, and the monument will likely be in Christopher Park in front of the Stonewall Inn, in Hudson River Park south of Chelsea Piers or in Battery Park City "in the gaze of the Statue of Liberty," Cuomo said.
Cuomo also said that a series of television ads began running on Sunday in New York, North Carolina, Mississippi and Texas to promote the city's diversity.
Watch: