There's no other way to put it: Samatha Bee is pissed!
The host of Full Frontal is furious that we've just experienced another horrifying event involving guns, and yet nothing is ever done about it. She's too angry for all that "love conquers hate" talk, and she demands action. "Love does not win unless we start loving each other enough to start fixing our f**king problems," she said in a powerful monologue last night with a firm and angry gun control message.
For starters, Bee is furious that "our mass shooter du jour" was somebody who beat his wife, had been reported multiple time as "homophobic and unhinged" and had been questioned twice by the FBI for ties to terrorism, but was still legally able to buy a gun that shoots 45 rounds a minute. It really doesn't make any sense.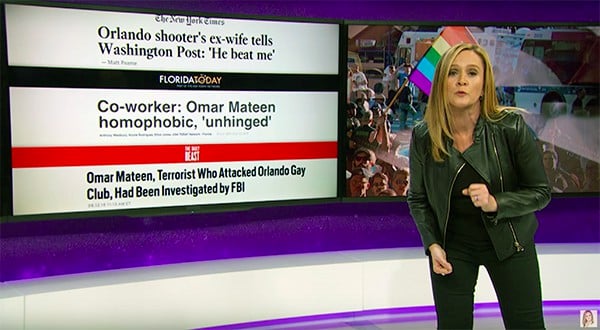 Bee can hardly contain herself dealing with Senator Marco Rubio's complacency when he, almost apologetically, says that "this could've happened anywhere in the world. Unfortunately, today it was Orlando's turn."
She's clearly disgusted: "Mass shootings are so normalized now that we are taking turns?"
Then she slays him with statistics when she points out that "Australia had five mass shootings between 1987 and 1996. Parliament passed strict gun laws, and they haven't had a single mass shooting since then."
Bee is also realistic, and she knows we can't do away with our second amendment. "We can't constitutionally get rid of all guns, but can't we get semiautomatic assault rifles out of the hands of civilians?" she asked.
"'Sam Bee wants to take your guns away!' Yes — the ones that mow down a roomful of people in seconds. Yes, I do want to take those guns away!" (She's talking about the highly profitable AR-15 rifles, that are used in most major mass shootings in America. The AR-15 is nicknamed "America's gun" and it's as American as baseball cards and apple pie. It can be bought in Florida with no waiting period.)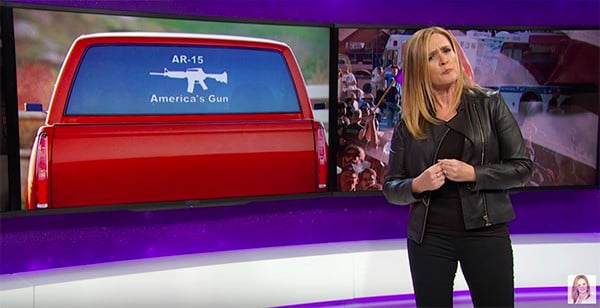 Florida Governor Rick Scott is the last casualty to cross Sam Bee's wrath: a reporter asked him if there was anything we could do on a policy level to stop mass shootings in the future, but he gets away with not really answering anything. "If only shooting victims can dodge bullets as deftly as you dodged that question…" she says. And this wasn't even the first high-profile gun murder of the weekend in Orlando, she says referring to singer Christina Grimmie's murder on June 10. 
But Bee is still not finished with the Governor: When CNN's Jake Tapper asked Perry what people should do to help, he simply answered: "pray." She beats him at his own game, and reads a passage from the Bible that says "Faith by itself, if it does not have work, is dead."
"Oh, we were supposed to do something while we prayed?" she asks, full of sarcasm.
Amen, sister.