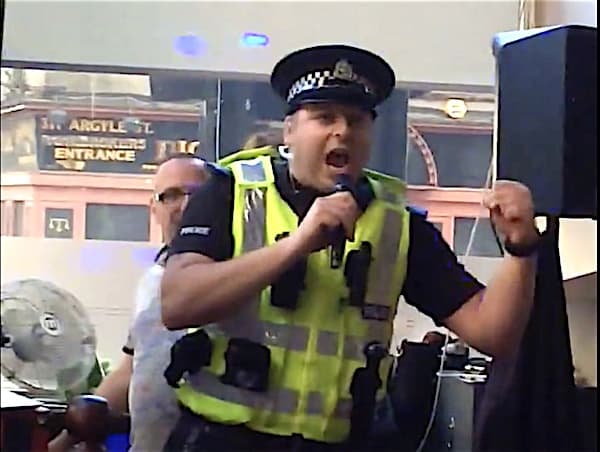 A Scottish police officer stunned gay bar patrons earlier this week by performing a karaoke rendition of Gloria Gaynor's "I Will Survive" after dealing with a disturbance at the Waterloo Bar in Glasgow City Centre.
The Police Scotland cop – known only as Sergeant John – and three colleagues had been called to deal with an incident outside the Waterloo Bar in Glasgow city centre on Wednesday night.
After interviewing people in the bar and studying CCTV tapes, the officer was persuaded to perform on stage by the karaoke compere.
Said host Katie Boyle on Facebook: "So I managed to get Sargent John to sing in the Waterloo bar today after a wee incident !!"
Watch:
The performance managed to reach Gloria Gaynor, who tweeted her approval:
I love this! Sgt Jon Harris sang #iwillsurvive to smooth tensions in Glasgow pub after a brawl https://t.co/kRvmAQrAXe @thecourieruk #GG

— Gloria Gaynor (@gloriagaynor) June 2, 2016