When it comes to LGBT rights, you can't do much worse than Uganda. Same-sex relationships are illegal for both men and women in the country, and the crime can carry lengthy prison sentences.
An infamous anti-LGBT bill, known in the West as the Kill the Gays bill, was introduced in 2009, advertised as a "Christmas Gift" to its advocates by Speaker of Parliament Rebecca Kadaga in 2012, and signed into law in 2014 by President Yoweri Museveni.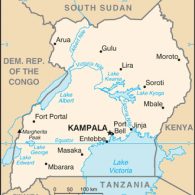 Thankfully it was annulled on a technicality in 2015, but just its introduction, even if the bill ultimately didn't become law, had a lasting effect: a report released last April showed an increase in violent acts against LGBT Ugandans.
Homophobia is very much part of the culture in the country.
Wednesday The Kuchu Times reported that three students from Mbarara High School in western Uganda were beaten by a gang of fellow students after they were caught looking at pictures of gay dating sites on their phones. A day later, 20 students were indefinitely suspended:
It is reported that around 2am on the morning of Sunday 12, 2016, three students in their senior three were caught viewing pictures on gay dating sites on their smart phones. Before they knew what was happening, they were surrounded by a gang of their fellow students who started shouting, "homosexuals, homosexuals!" The noise alarmed the rest of the student's community who gathered and started beating the three.
The victims were battered severely and forced to divulge names of other students involved in homosexuality. In fear of being tortured further, they named a number of students; one of whom was the Head boy.
The Police intervened and rescued the victims from the lynching mob before escorting them to their homes.  Reports further indicate that as of Tuesday afternoon, management had a list of over 20 students who were being accused of engaging in same sex relationships and had resolved to suspend them indefinitely.
Three students were also injured in the fiasco and rushed to hospital.
(An earlier tweet by Ugandan LGBT activist Dr. Frank Mugisha said that seven students had been suspended.)
Uganda:7 students have been suspended from Mbarara high school & 1 in hospital after severe attacks on over 20 students suspected to be gay

— Dr. Frank Mugisha (@frankmugisha) June 14, 2016
Last year, a similar incident happened at another school in Mbarara.  Students at Ntatre School went on a rampage after the school's administration failed to punish students who engaged in homosexuality. Anti-riot police had to be deployed to calm down the worsening situation caused by the students who attempted to lynch to death their colleagues accusing them of practicing homosexuality. 
This week, as Ugandans mourn the victims of the Orlando mass shooting, Nicholas Opiyo, the lawyer who challenged Uganda's anti-gay law, told Voice of America that "while most Ugandans are horrified by the Orlando, Florida massacre, anti-gay government officials are using such violence to justify the ill-treatment of gays in Uganda."
Photo credit: Mbarara High School/Facebook