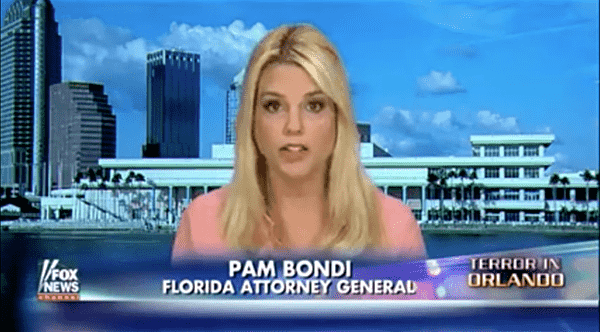 Florida Attorney General Pam Bondi is still pissed that Anderson Cooper held her accountable for her history of opposing gay rights.
As we reported, Cooper grilled Bondi earlier in the week on why she now is painting herself as a champion of the LGBT community when she has fought tooth and nail against gay couples' right to marry.
On Wednesday, Bondi called into a friend's radio show to blast Cooper for his handling of the interview. Bondi said, "The interview was supposed to be about helping people's families, not creating more anger and havoc and hatred yesterday. Yesterday was about unity, about bringing people together, about helping people."
Following that attack, Cooper took to his show on Wednesday night to defend his questioning Bondi on gay rights, saying,
"The fact is, Attorney General Bondi signed off on a 2014 federal court brief that claimed married gay people would pose 'significant public harm'. Harm. She spent hundreds of thousands of dollars in taxpayer money. Gay and straight taxpayers money, trying to keep gays and lesbians from getting the right to marry."
Of why he thought it relevant to bring up Bondi's history of opposing gay marriage, Cooper said,
"Ms. Bondi is championing right now her efforts to help survivors but the very right which allows gay spouses to bury their dead loved ones – that's a right that would not exist if Ms Bondi had had her way. I think it's fair to ask her about that. There is an irony in that."
Cooper's rebuttal apparently incensed Bondi, who went after Cooper again in an interview with Fox News on Thursday. She continued to insist that Cooper's line of questioning was inappropriate.
Said Bondi,
"…he just flipped on me. There's a time and place for everything. If he wants to ask me about doing my job, defending the constitution, but to incite anger and hatred–was not the time nor the place in front of a hospital."
Bondi added,
"I get it. He's hurt. He is a champion of the LGBT community. But you know, that's a time for us to come together…Emotions are high. I saw later that he had cried when he was reading the names. let's just focus on unity and love. He basically mocked me for saying that."
It's worth noting that President Obama on Thursday in an address at a memorial for the victims of the Orlando massacre said, "You can't express hatred towards groups…because of their sexuality and not feed something very dangerous in this world."
Watch Bondi's interview with Fox, below.
https://www.youtube.com/watch?v=Ao4Z0-zjl_s&feature=youtu.be