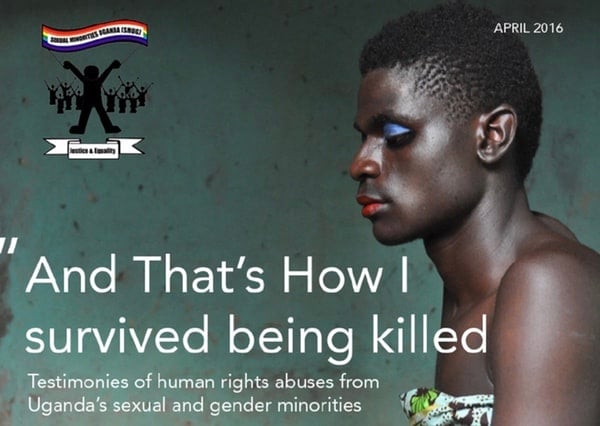 A landmark report was released today by Sexual Minorities Uganda documenting 264 verified cases of human rights abuses against LGBTI Ugandans based on sexual orientation and gender identity, and is based on first-hand testimonies from cases documented from May 2014 and December 2015.
These include physical threats, violent attacks, torture, arrest, blackmail, press intrusion, state prosecution, termination of employment, loss of physical property, harassment, eviction, mob justice, and family banishment.
Writes Austin Drake Bryan, who worked as an intern on the project and presented it today with activist Richard Lusimbo, on Facebook:
The report is the result of a two year research, documentation, and crisis response project called REAct (Rights, Evidence, Action) funded by the International HIV/AIDS Alliance. What is inside the report are testimonies from some of the 264 cases of human rights abuses documented by a team of local LGBT activists in Uganda (called REActors) from May 2014 until December 2015. What they found was increased persecution of LGBT individuals in Uganda even after the annulment of the Anti-Homosexuality Act. I was lucky enough to be able to join the team and assist in the analysis of the data collected, and authoring of the report. After reading, coding, and analyzing each and every interview, we generated a report that uses qualitative evidence to unpack unique trends in the lived experience of LGBT persons in Uganda. The testimonies are both heartbreaking and powerful — but they are without doubt stories of resilience. I would love for anyone interested to take the time to read through the publication, because giving an audience to the stories of human rights abuses brings us one step closer to creating a liberated LGBT community in Uganda — and the world.
According to the report:
Of the 264 cases documented in this report 48 involved acts of violence, including 35 cases involving physical threats or violent attacks, and 13 instances of torture by the state. The largest proportion of documented cases involved intimidation, with 84 cases, while 73 involved loss of property (including loss of employment, physical property, and eviction), and 59 involved social exclusion (including discrimination when accessing healthcare, community discrimination, and family banishment)
Says the report: "It is clear then that homophobia continues to persist in Uganda even after the nullification of the 2014 Anti-Homosexuality Act, and the government has failed to protect the human rights of sexual and gender minorities."
https://twitter.com/Opimva/status/723400970739163136
It continues:
The passing of the Anti-Homosexuality Act catalyzed a rise in persecutions by state and non-state actors against sexual and gender minorities. There were 162 cases of persecutions against Ugandan LGBTI persons reported in a Sexual Minorities Uganda (SMUG) report in May, 2014. Compared to 19 cases of human rights abuses reported in 2012, and 8 cases in 2013, it is clear that the 162 reported cases that occurred within just four months, from December – May 2014, represented an increase of homophobia caused by the passing of the Anti-Homosexuality Act. This included cases of violent attacks, arbitrary arrests, blackmail, and evictions, with over 30% of the reported cases involving an element of violence, 41% involving an element of intimidation, 50% involving loss of property or income, and 25% involving asylum, family rejection, or suicide.
Read the full report:
The report concludes with many recommendations for the government of Uganda:
Decriminalize homosexuality immediately, and repeal Section 145 of the penal code which criminalizes "crimes against the order of nature," and stop supporting the cruel and unusual punishment of sexual and gender minorities. The Uganda Police Force is urged to work with SMUG to investigate all cases. The Ugandan Human Rights Commission should work to take cases presented in this report to tribunal and The Parliamentary Committee on Human Rights should take proper actions. The Uganda National HIV/AIDS committee should be inclusive of sexual and gender minorities and include them in all health related programming and The Equal Opportunity Commission should remove legal provisions that outlaw being able to hear LGBT relate cases. Investigate all reports of violence against sexual and gender minorities, appropriately punish those responsible, and publicly and expressly condemn all such violence.
The report asks the international community to assist in investigations of these cases, support work to combat human rights abuses, assist in refugee issues, and hold perpetrators of human rights abuses responsible.