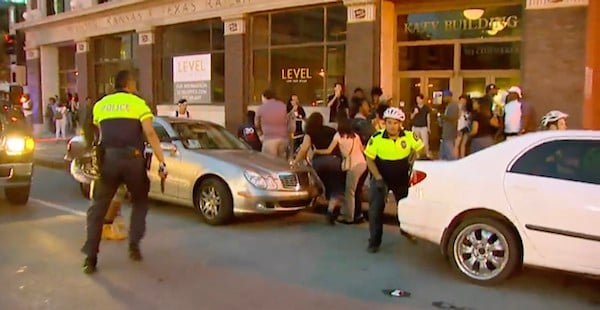 Four Dallas police officers and one DART officer were killed by snipers at a protest in downtown Dallas on Thursday night. Seven additional officers and two civilians were wounded. The shootings were done from elevated positions, according to police, at about 9 pm. It is the single deadliest attack on U.S.  law enforcement since 9/11.
The peaceful protest was a demonstration against the recent killings of Black men by police officers in Baton Rouge, Louisiana and Minnesota.
One suspect died in a shootout with police.
A sweep of the area found no evidence of any explosives.
TV cameras caught the scene after the first shots were fired on Thursday night:
RAW VIDEO: Our cameras captured the panic after the first shots were fired in downtown #Dallas Thursday nighthttps://t.co/JXcapjFIHv

— WFAA (@wfaa) July 8, 2016
Three suspects are in custody and are being "tight-lipped", according to Dallas Mayor Rawlings.
#Dallas Mayor Rawlings tells @GMA the 3 suspects in custody are "being pretty tight-lipped at this point." https://t.co/XsVrwBAjgG

— ABC News (@ABC) July 8, 2016
The names of the Dallas police officers have not been released, but DART identified the officer it lost as 43-year-old Brent Thompson, who joined the department in 2009. He had recently married a fellow officer, DART police Chief J.D. Spiller told WFAA.
Thompson is the first officer to be killed in the line of duty since DART formed a police department in 1989, spokesman Morgan Lyons said.
A Dallas attack witness spoke to CNN's New Day:
#Dallas attack witness: These officers gave their lives for us, so we can be free, we can be okay, we can be safe https://t.co/YFeoF00IDf

— New Day (@NewDay) July 8, 2016
President Obama reacted to news of the shooting.
Watch:
Former executive assistant director of the FBI Shawn Henry called it "cold, calculated murder."
"This is cold, calculated murder" Former executive assistant director with the FBI Shawn Henry on #Dallas shooting https://t.co/t2uNlZojjC

— TODAY (@TODAYshow) July 8, 2016