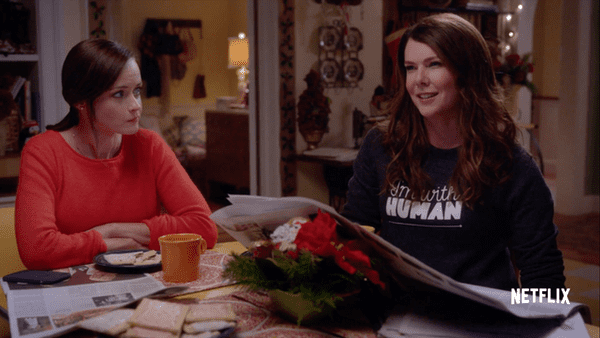 It's finally here. Your first glimpse at the long-awaited return to Stars Hollow.
On Wednesday, Netflix released a new trailer for its upcoming Gilmore Girls mini-series, Gilmore Girls: A Year in the Life. The trailer opens with images familiar to Gilmore fans (Luke's, The Dragonfly Inn, Lorelei's house), and then puts the attention squarely where it belongs: on the banter between Lorelei (Lauren Graham) and Rory (Alexis Bledel).
Mocked by MadTV as "Gabmore Girls", Gilmore Girls became famous among fans and haters alike for its mile-a-minute dialogue, often focused on pop culture. And it looks like the mini-series will return to this same territory. In the new trailer we see Lorelei and Rory discuss two figures currently popular on the pop culture landscape: Amy Schumer and John Oliver.
Netflix also announced on Wednesday that the 4 part TV event will premiere on November 25.
More on the show via Netflix's YouTube posting:
Gilmore Girls: A Year In The Life includes four 90-minute chapters, each spanning one of the four seasons: Winter, Spring, Summer and Fall. Gilmore Girls: A Year in the Life is created by Amy Sherman-Palladino, who executive produces, writes and directs the four 90-minute chapters with Daniel Palladino.
Watch, below.
https://www.youtube.com/watch?v=fTnU5MG5Edw&feature=youtu.be