Until this week, Javier Muñoz has been Lin-Manuel Miranda's alternate for the role of Alexander Hamilton in Broadway's insanely successful show. He's also played the lead role every Sunday matinée, a performance The New York Times described as the "sexy Hamilton."
New York Magazine and tech rehearsal.@Lin_Manuel @HamiltonMusical pic.twitter.com/OhaMzwJUAI

— Javier Muñoz (@JMunozActor) July 9, 2016
He put a "different spin on the title role," the Times critic pointed out, with his "penetrating stare and a Don Juan smile," adding that Muñoz was a "natural" when "courting the ladies" on stage — which pretty much certifies him as an outstanding actor, since he is openly gay and proud.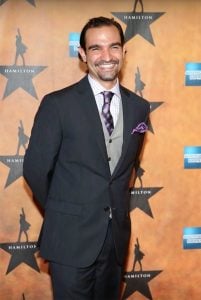 Munõz is also HIV positive and a cancer survivor, but today he feels "healthy and well," he says. "And I'm grateful for that."
In an interview with The New York Times Sunday, he talked about his real-life role as an HIV advocate: "I have been living with H.I.V. since 2002, and I'm undetectable. I'm healthy, I'm strong and I'm very out about that because of the stigma still attached to it."
When he was diagnosed with cancer, however, Muñoz felt differently and didn't want to tell anybody from the show. (He told the New York Post that after he was diagnosed in October, he "spent about six weeks not wanting to think about it, face, it, deal with it.")
"I was filling myself with disappointment, as if you can blame yourself for cancer," he continued in the Times interview. "But that's a thing, you know. I had to reveal it, and then I had to own that I needed help, and I had to ask for help, and that was the hardest thing in the world."
He ended up missing a few weeks of performances as he underwent surgery, radiation and physical therapy, but he's been back for months. "I had my first follow-up in March, and all green lights," he said. "I'm good."
Final tweet tonight honoring @Lin_Manuel
Us tonight celebrating.
I. Love. My. Friend.#grateful @HamiltonMusical pic.twitter.com/ZzqGJzDoQA

— Javier Muñoz (@JMunozActor) July 10, 2016
Born to Puerto Rican parents, the 40-year-old actor grew up in a housing project in East New York, Brooklyn and saw the power of theatre  as a tool for social change.
"I just fell in love with the idea that theater can be a mirror, theater can be a commentary, theater can be powerful and can start a conversation that needs to happen. I started working for a children's literacy organization that used theater to teach literacy in after-school programs, and that was another powerful thing — suddenly the kid who really had trouble reading in class, or was embarrassed to speak out loud because of their accent, was inhabiting a character, using their imagination, reading and writing. That blew my mind."
After battling cancer, dealing with HIV and almost giving up acting, Javier Muñoz now gets ready to step into one of Broadway's biggest roles.
Just a few hours before he starts as the official new Hamilton in town, he took it to Twitter:
First to the haters & Twitter trolls; you know the saying: if you are not part of the solution… Try love; its vital & our strongest power.

— Javier Muñoz (@JMunozActor) July 11, 2016
Secondly; to the fans & followers who've been here the whole journey; THANK YOU! ❤️❤️❤️❤️❤️

— Javier Muñoz (@JMunozActor) July 11, 2016
Lastly; today is exciting for me but there are far more important matters happening in our world. Today & every day: #LiftEachOtherUp

— Javier Muñoz (@JMunozActor) July 11, 2016
You can read the full interview here.
Photo credit: Javier Muñoz/Twitter