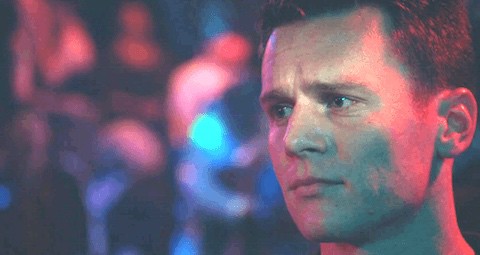 For those of us who grew to love Looking, HBO's short-lived gay-centric drama, last night's special concluding film gave us one last check-in with the San Francisco-based group of friends. As we said in our review, we loved it, but now that it's aired, we can all pour ourselves a mimosa, sit down with an egg white omelet and discuss the Looking wrap-up film over brunch like a family.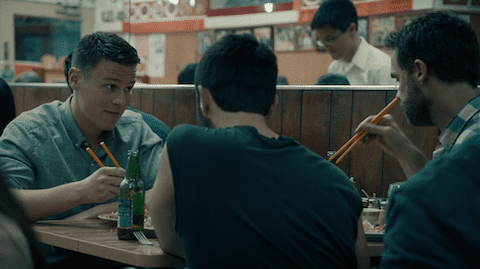 "Finally Finding Something Close to Adulthood"
We return to Looking just as Patrick is returning to San Francisco. It's been nine months since Patrick left the Bay Area to clear his head in Denver, Colorado. First stop on his homecoming tour is a little dim sum and dish. Lucky for us, everyone spills their exposition like so much soy sauce all over the table, helpfully sharing the bullet points of their last three trimesters. Dom's life has become all about chicken, whether he's slinging it at his smash success of a restaurant window or left choking it due his lackluster love life. The rest of the crew is faring a bit better, at least romantically. Agustín is working at the Art Institute and getting ready to head down the aisle with Eddy. Doris and Malik are going strong. Even Richie and his blogger boyfriend are still an item.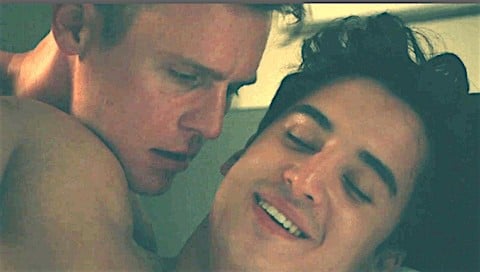 "Bury Your Dead Real Good"
The group hits the bars for some Britney and beers, ending with Patrick going home with a hot 22-year-old game developer. The series doesn't shy away from their sexual encounter — the film's only man-on-man sex scene — but it might be one of Looking's most unflinching. After some sweaty fun, the two talk about Patrick's ex Kevin (hey, it's a small town). Patrick claims he left San Francisco for a reset after the emotional fallout of his & Kevin's break-up, but when he's asked "Did it work?" he doesn't quite have an answer.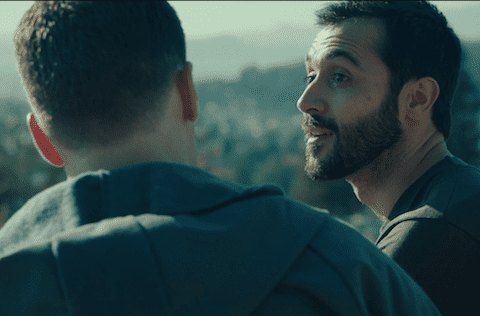 "This Is Not A Katherine Heigl Movie"
If Patrick's first night back was a celebration, day two was a crisis. First there's a visit to Dom's chicken window (and parklet!) where Doris harps on Dom's reluctance to dive out of the frying pan and into the dating pool. Dom's struggle to balance love and career seems the thinnest emotional conflict of the series on the surface, but his relationship with Doris adds a touch more heft. It's not about "having it all" in the cliched rom-com sense, but rather how anyone navigates the transition between desperately longing for the future and the terrifying fear of losing the present.
A frantic call from Agustín beckons Patrick away to Indian Rock where the bride-to-be is suffering from a case of cold feet. It's not that he's questioning his love for Eddy (this isn't a runaway bride moment), but the tidy trappings of traditional marriage have shaken Agustín's anarchist rabble rousing attitudes, causing a bit of an identity crisis. It's not just making peace with the institution of marriage, though. It's also how Agustín has a tendency to be the worst. He's afraid he might ruin this; he might hurt Eddy. Now, the Patrick that we knew from previous seasons is probably the last person with any business giving out advice on healthy adult relationships. Maybe it's the altitude, but our Rocky Mountain High Patrick is able to break it down for Agustín: You're allowed to change. Clearly Patrick has.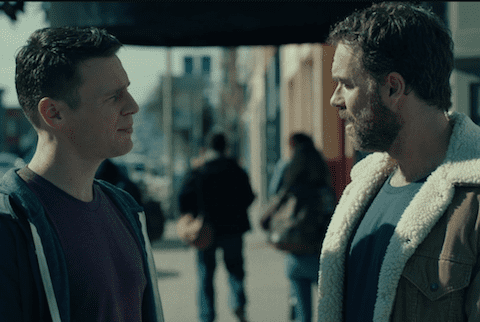 "Sister Dominic of the Tenderloin"
The award for best Annette Bening impression goes to Dom! He and Patrick re-enact the tense toothbrushing scene from The Kids Are All Right and hop into bed. They bust out the Pax Ploom and start to get high. Maybe it's the Mary Jane talking, but Patrick gets an idea. Why don't he and Dom give love a go? They're already best friends, they don't make each other sick, physically, and they like all the same movies. That's more than some couples have going for them. Ha, he's just kidding! Or is he? Maybe? Will they? Dom leans over and they start to kiss, but before things go any further, they break into laughter, stunned they even let it get that far. It's all very easy and casual and one of the most authentic-feeling scenes between two gay friends I've seen in a while.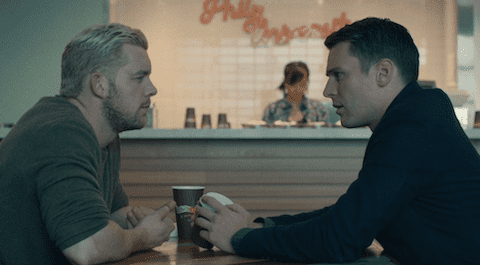 "It's So Easy To Let the Past Make A Mess of the Present"
The next morning, Patrick texts Kevin to meet up for a coffee. Kevin, now a blonde, shows up for a tense exchange, eager to mention to Patrick how he and his boyfriend Jon are back together and doing great, athankyouverymuch. Because of Patrick mucking up his life, he went to therapy, figured out what he wanted and now if he "meets Chris Pratt at Fitness First" he can "jerk off him until [his] heart's content, and that's completely fine." (I guess they read that study about gay men in open relationships.)
Obviously, a lot of hurt still lingers, and Kevin holds little back spewing venom at Patrick, calling him a coward for fleeing the city. Kevin always seemed to be holding all the power in their coupling, so it's been hard to imagine him holding onto heartbreak. A few cracks in Kevin's smug armor show when he reveals that he wanted to make it work, he wanted to try. He says Patrick didn't move away, he ran. That's what he does.
There's some tenderness there still, though. On their way out, Kevin reveals that he's moving back to London with Jon, which means his job is opening up. If Patrick wants to return to the Bay Area, he could make it happen. They share one last hug, and Kevin gives him a final kiss before heading back on the train.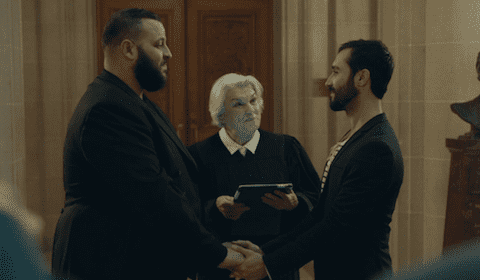 "Marriage Is For the Gays"
Patrick leaves his contentious coffee with Kevin to head straight to City Hall for Agustín and Eddy's wedding. This time it's Eddy's turn to be freaked out. He's more overwhelmed with the details of the wedding than the difficulties of marriage, but it's enough of a tizzy to warrant a quick aside between he and Agustín, leaving Patrick alone to have a chat with the honorable Judge Tyne Daly! She imparts some sage wisdom about how people can adapt for one another to make relationships work. She prefers adapt to change, but the lesson for Patrick is the same. Even if he did run from Kevin, that doesn't mean he's a runner. He's not a coward just because he acted cowardly.
Agustín and Eddy exchange their "I Do's" and celebrate at The Endup with a special speech by none other than activist Cleve Jones. Doris reveals she and Malik are never heading down the aisle, but they are considering having a baby. Before she pops out a little gayby, she tells Dom she wants to do some drugs, to which he replies that they've got plenty thanks to Eddy's friend "handsome Jake." I guess Dom's dry spell is coming to close.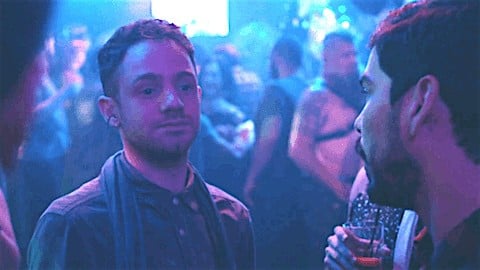 "Gays Argue With Other Gays About Being Gays"
Coming off stage following his maid of dishonor toast, Richie's boyfriend Brady can't resist throwing a little shade about Patrick's last big, disastrous speech. Brady ("a blog that no one reads in human form," according to Patrick) has had a touch too much to drink, and it all comes out. It starts with a few bitchy barbs between Brady and Patrick, but then it devolves into how Patrick and Kevin were everything that was wrong with the gay community and how Brady is the gay thought police and before they start taking off their earrings and smearing on the vaseline, Richie tries to get Brady home. This only infuriates Brady more because he feels like Richie is taking Patrick's side, so Brady calls them out, asking Patrick if he came back to steal his boyfriend. Richie manages to wrangle Brady out of the bar, leaving Patrick shaken and solitary on the dance floor when all the couples pair up.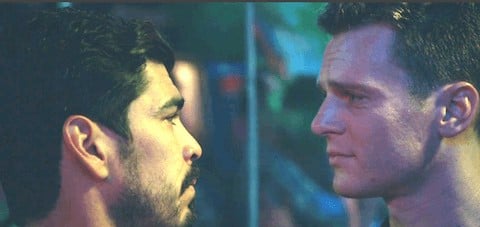 "Just Because You Feel You Shouldn't Need Something Doesn't Mean You Don't"
In my favorite scene in the too-short history of Looking, Patrick is standing off to the side watching everyone cuddle and kiss and sway. We see Richie come back into the bar and spot Patrick across the room. As the music swells (the gorgeous, haunting, perfect pick "Hood" by Perfume Genius) Richie makes his way over to Patrick. We're seeing this all happen through the mirror behind Patrick, and watching Patrick's eyes spot Richie's return gave me goosebumps each of the ten times I re-watched it.
Richie and Patrick stroll up the late-night San Francisco street and Patrick tells him that he's got an offer to take a job back in town. Richie doesn't know if he's ready to jump from one relationship into another. Maybe he needs some time to be alone. Maybe he needs to take his haircut truck and move to Texas. Or Reno. Somewhere. But Patrick makes his pitch that being alone isn't as cracked up as it seems. Wouldn't it be better to find yourself, together? He'd even go with Richie to Texas. That's love.
Richie is worried what will happen if it doesn't work out. "At least we tried," Patrick answers. "Do you want to try?"
Before Richie can answer, the gang bangs on the window from inside a greasy spoon. They go in, sit amongst the people they love and Richie gives Patrick a solemn nod.
If nothing else, at least they'll try.
What did you think of Looking: The Movie?