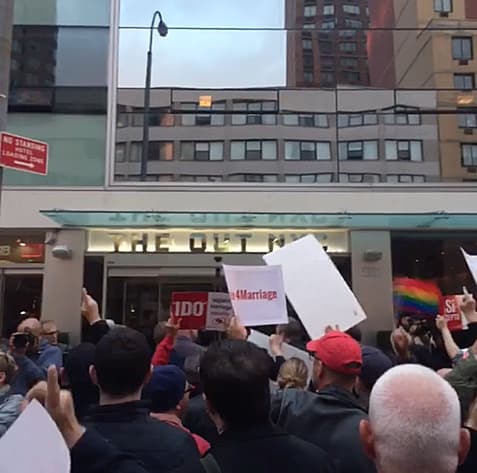 New York City's "gay" hotel, The Out Hotel, on 42nd Street Times Square, which became the focus of protests after its owners, Ian Reisner and Mati Weiderpass, held a fundraiser at their home for anti-LGBT Republican candidate Ted Cruz, is no more after seeing huge declines in occupancy and business, the NY Post reports.
The NY Post reports the decline in business to be a result of assimiliation – "as more gays feel welcome at other hotels" – and mentions the Cruz fundraiser as an aside:
"Reisner and business partner Mati Weiderpass kicked up a storm last year after hosting an intimate get-to-know-us fundraiser for GOP Sen. Ted Cruz."
But goodwill toward the couple all but dried up after Reisner was caught lying about the nature of the meeting.
After initially defending the reception, Reisner and Weiderpass apologized on Facebook.
Said Reisner, feeling the backlash: "I am shaken to my bones by the e-mails, texts, postings and phone calls of the past few days. I made a terrible mistake."
Added Weiderpass: "I share in Ian's remorse. I, too, lay humbled with what has happened in the last week. I made a terrible mistake."
Several gay organizations and individuals then pulled out of events scheduled at the Out NYC hotel, which also contains 7,500 square feet of restaurant and common space and the 14,000-square-foot XXL gay nightclub.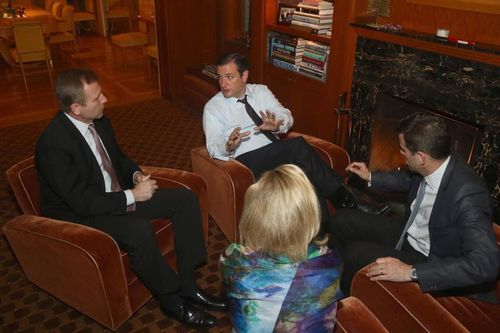 In a statement following the reception, Cruz issued a statement apparently meant to appease conservatives which said, "The purpose of the meeting and the primary topics of conversation were national security, foreign policy, and America's commitment to standing with Israel. On the subject of marriage, when asked, I stated directly and unambiguously what everyone in the room already knew, that I oppose gay marriage and I support traditional marriage."
Boycotts were launched against Reisner's businesses and he began to speak out in his own defense, claiming that the event wasn't a fundraiser.
"It is amazing that my businesses are being boycotted by some because I hosted a discussion with an elected official. Not a fundraiser. Not an endorsement. A dialogue," wrote Weiderpass in an op-ed for The New York Observer. "Despite media reports to the contrary, I did not organize the Cruz dinner, but did embrace the opportunity—again, in a non-fundraising setting—to discuss a number of important issues, including support for Israel and support for gay rights."*
"There were no checks given, it was nothing like that," Reisner told New York magazine. 
Well it turns out Reisner wasn't exactly telling the truth. The New York Times revealed in May 2015 that he cut a $2,700 check (the max individual contribution allowed) to the Cruz presidential campaign around the time of the dinner. Only after the NYT first reported on the dinner did Reisner ask for his check to be refunded.
The hotel has been leased by Merchants Hospitality hotel group, the Post reports: "Merchants signed an approximately $40 million contract earlier this month to take over the long-term lease for The Out, which sits on land owned by Richard Born on the far western end of The Deuce at 510 W. 42nd St. between Times Square and Hudson Yards."