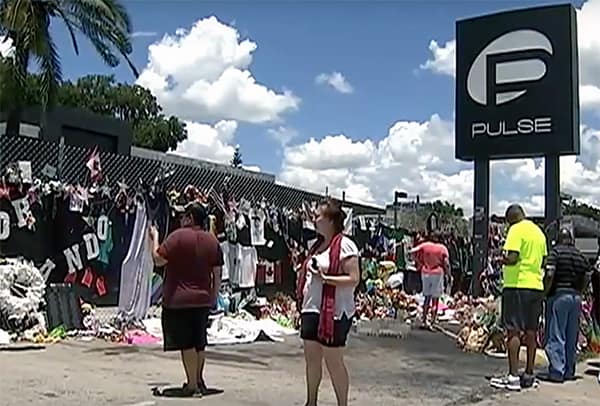 On Wednesday, one month after 49 people were killed in the deadliest mass shooting in American history at Orlando's Pulse nightclub, law enforcement officials handed the club back to its owner Barbara Poma. Hours later, sometime between late in the evening and the early hours of Thursday, somebody broke into the club according to a burglary report released by the Orlando City Police (OCP).
We can confirm Pulse had a break in last night. Details will be in the report. Once it is finalized we will release. pic.twitter.com/fcLWDhsyB7

— Orlando Police (@OrlandoPolice) July 14, 2016
Poma said in the report that when she drove by the club at approximately 9pm Wednesday everything seemed normal, and the "exterior fencing, including the vehicle gate appeared to be locked and undisturbed." When she went back on Thursday morning, her husband Rosario Poma noticed that one of the exterior doors was unlocked and that somebody had forcibly removed a sheet of plywood that was used to secure it.
They called for a police response. Officer John Ostrom examined the scene and concluded that the "suspect(s) had used a prying tool to force the plywood away from the screws that held it to the metal door frame." He also noted that "[another] plywood that was designed to secure [another] door had been pried loose, but was not totally removed from the doorway."
Pulse does have an alarm system and interior security cameras, but they weren't activated yet.
The OCP released the 911 call from the incident:
Pulse spokeswoman Sara Brady, spoke with The Orlando Sentinel and said that Barbara Poma and her husband Rosario are not yet sure about the future of the club. "They haven't decided anything," she said. "They just entered the building for the first time yesterday and didn't know what the state of the building would be, then this happened."
Orlando Mayor Buddy Dyer called the incident "disturbing."
Our community is still grieving. It's disturbing that someone would try to bring additional pain to the victims. https://t.co/iQ3LAp8X60

— Mayor Buddy Dyer (@orlandomayor) July 14, 2016