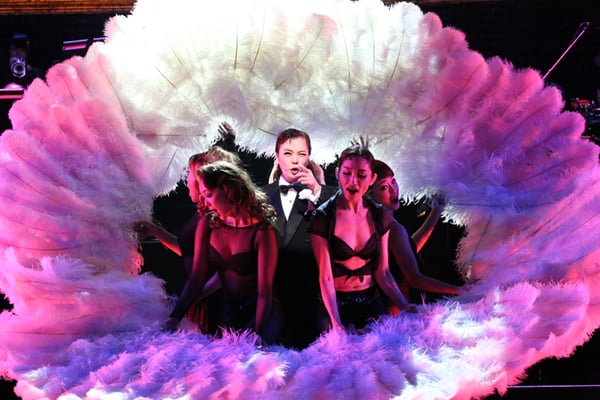 Coming to Lincoln Center this month is a version of the Broadway musical Chicago unlike any you've ever seen before. The Kander & Ebb classic will be performed by the famous all-female Takarazuka Revue, a Japanese musical troupe that traces its roots back over 100 years to a small Japanese town.
Founded in 1914 as a way to boost railroad tickets to the hamlet of Takarazuka, known then for its hot springs, the revue soon eclipsed the springs it was supposed to promote along with its namesake. The revue has been called, "Japan's answer to the Ziegfeld Follies" by The New York Times. But unlike The Follies, Takarazuka is thankfully still around today and as popular as ever, drawing in over 2.5 million audience members annually–and that's just in Japan.
With a reputation for lavish costumes, elaborate sets, and an eclectic assortment of adaptations that span both Japanese and classic western stories, movies and plays, it's easy to understand why the Takarazuka has a legion of die hard fans. In Japan, there are 300 unofficial fan clubs devoted to individual members of the revue. Total number of people enrolled in those fan clubs? 70,000!
Takarazuka's Lincoln Center performance of Chicago will mark the show's North American premiere. And while the musical's songs are sung entirely in Japanese, all that jazz (and all that Fosse choreography) remains intact. In fact, part of the joy of seeing Takarazuka perform Chicago is that so much of the actual text becomes irrelevant. You can listen along and be completely in sync with the story without knowing a lick of Japanese because the performers are so adept and because the music is so recognizable.
LGBT theatre-lovers will also likely relish the way the show treats gender and gender roles. With an all female cast, the show is a gender-bending romp that underscores just how performative gender roles really are. And Chicago is the perfect show to skewer those roles as being all about performance because the show itself is all about the razzle dazzle.
Interestingly, in Japan, 90% of the audience for Takarazuka shows is female. This is reportedly because female audience-goers enjoy seeing women escape from the rigid roles imposed on them by Japanese society. For that same reason, Takarazuka may resonate strongly for LGBT viewers who know a thing or two about playfully subverting gender expectations.
So whether you enjoy seeing strong female leads cast aside societal norms, or you just like outlandish musical productions (or both!), you'll want to check out Takarazuka's take on Chicago when it takes center stage at New York's Lincoln Center from July 20 through July 24.
Watch a teaser of what you can expect to see from Takarazuka's Chicago, below.