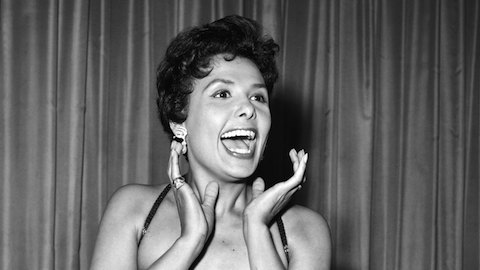 A glamorous old Hollywood beauty, a fierce activist and an overwhelming talent, Lena Horne ticks a lot of boxes when it comes to what makes a gay icon.
Born Lena Mary Calhoun Horne in Brooklyn, New York, the singer-actress broke barriers throughout the span of her 70-plus year career. When she signed with Metro-Goldwyn-Mayer in 1942, she became the first African-American actress with a long-term major Hollywood studio. That didn't mean she still didn't face intense racism. She was often cast in featured roles for stand-alone scenes that could easily be cut for screenings in the South without affecting the plot. When performing for the troops, she would play for black servicemen seated behind German POWs. Her experience drove her into activism, however, her associations with some leftist organizations got her blacklisted in Hollywood as an alleged communist.
Horne persevered, becoming one of the most beloved singers and actresses of all time. She's won multiple Grammy and Tony Awards, and was the first African-American elected to the board of directors of the Screen Actors Guild.
She's also spoken at length about her close friend, Billy Strayhorn, the openly-gay collaborator of Duke Ellington. She called him "the only man I ever loved," she said. "He was just everything that I wanted in a man … except he wasn't interested in me sexually."
Marvel at some of our favorite clips of Lena Horne in action below!
Horne portrayed Julie LaVerne in the 1946 film Till The Clouds Roll By. As happened often in Horne's early films, her role was designed to be easily cut from the film without affecting the plot. The beginning of the film contains a shortened adaptation of Show Boat. When MGM adapted Show Boat into a film in 1951, they passed over Horne for the role of LaVerne, instead casting Ava Gardner in the role of a mixed-race performer on the titular vessel.
https://www.youtube.com/watch?v=zJvYo5pZEfE
One of Horne's starring cinematic roles was in the movie musical Stormy Weather. The African-American cast was so rare and groundbreaking for the time, the Library of Congress selected the film for the National Film Registry in 2001. The film's title track became Horne's signature song.
Throughout the '50s and '60s, Horne made several appearances on television variety shows, including The Judy Garland Show. Watch the two of them banter and swap hits in the clip above, then check out this showstopper.
Another iconic role for Horne was Glinda the Good Witch in the 1978 film, The Wiz.
In 1981, Horne debuted her one-woman Broadway show Lena Horne: The Lady and Her Music, which ran for 333 performances and earned her a Special Tony Award. Watch her inspiring acceptance speech and powerful performance above.
What's your favorite Lena Horne moment?