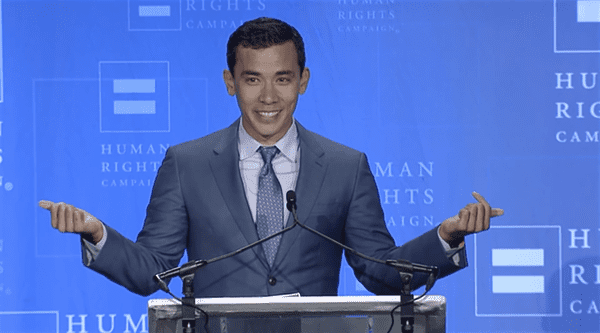 Conrad Ricamora, who plays Oliver on How To Get Away With Murder, recently received the Human Rights Campaign's Visibility Award at their gala in Cleveland, Ohio.
In his acceptance speech, Ricamora talked about growing up in a small town in the south, coming out as gay to his family, playing an openly gay HIV positive person of color on network TV, and the importance of gay actors being open about their private lives in public.
"It's a little ironic to be getting the visibility award because so much of growing up as a kid was spent trying to be invisible," Ricamora said of the honor. Growing up in Niceville, Florida, Ricamora recalls, "I was terrified that someone would see me as gay and I was also terrified that I would see myself for what I naturally was…I was taught by my environment that there was something wrong with me."
Of his work on How To Get Away With Murder, where he plays opposite Jack Falahee, Ricamora said,"I'm happy to be playing Oliver, and to be providing that visibility now not only for gay men but also for gay men of color and HIV positive people."
Ricamora also touched on the ways that How To Get Away With Murder has broken new ground in terms of LGBT representation: "I want to thank Pete Nowalk for creating How to Get Away with Murder who also lives his life as a proud openly gay man and for creating two incredibly real complex characters…and for showing sex between two guys on primetime network TV. Finally!"
He added, "It's really exciting to be part of something that's normalizing and representing what has already existed in the world."
Ricamora said that other out actors have been hugely influential on his life and career and applauded them for their bravery and integrity:
"I want to thank all of the out actors that have empowered other actors like me to live with integrity because there's a lot of pressure to stay in the closet when you first start acting. There are some actors though who have chosen to live their lives with integrity, [both] personally and professionally. From George Takei to Sean Hayes, to Sir Ian McKellen to Jesse Tyler Ferguson, and countless, countless others, your honesty and your openness in your public lives allows kids like me from Niceville, Florida to see you on screen, or online, or in print and feel like there's a place for us in the world, even when we're scared for our own safety in the communities that we're living."
Amen.
Watch Ricamora's moving speech, below.