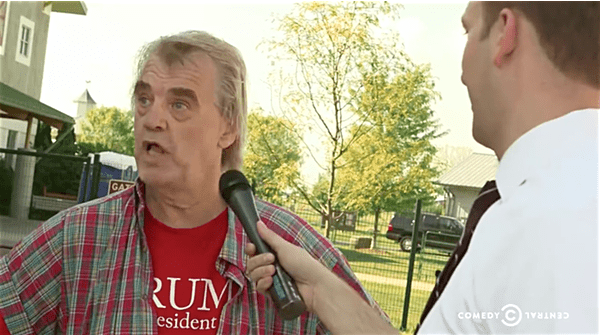 The Daily Show correspondent Jordan Klepper went to a Donald Trump rally to find out if Trump supporters would pass the "extreme vetting" that Trump proposed for immigrants coming to the U.S.
As previously reported, Donald Trump says Muslim immigrants must be able to prove that they support equal rights for women and gays in order to be allowed in to the country.
But is support for equal rights for women and gays even popular among Republicans?
Klepper put Trump-ers to the test. He asked one man to finish this sentence: "Gay marriage is ________." His answer? "Disgusting." "Actually the answer is legal in the United States," Klepper responded. To which the man retorted, "It's legal but I don't like it."
Another woman said gay couples shouldn't have the same rights as heterosexual couples. "I don't think it's fair," she said. "The regular couple they worked so hard. And the gay couple wants more." Klepper interjected, "When you say more, do you mean equal?" "Yeah," she answered.
And it turns out, Trump rallies aren't exactly bastions of feminist support. Or just clear-headed thinking in general.
Watch, below.