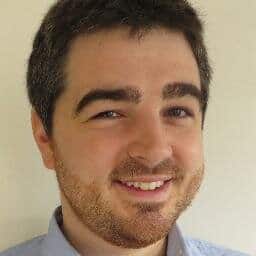 A straight journalist from The Daily Beast has landed in hot water after using Grindr to write a piece on gay hook-up sex among Olympians in which he provided telling details about the athletes he chatted with, effectively outing them. Some of those athletes come from countries that are notoriously anti-gay.
The journalist in question, Nico Hines (right), perused Bumble, Grindr, Jack'd and Tinder while in Rio de Janeiro for the 2016 Olympics. While Hines says he did not set out to write specifically about gay athletes, his piece focused almost entirely on them. Hines provided enough details about certain athletes he interacted with to be able to identify them.
After backlash emerged online, editors began to heavily scrub his piece. Among other things, the headline and header image have been changed since publication. Originally, the Grindr logo was blended with an image of the Olympic rings–an image which further underscored that the pice was all about gay hook-up sex.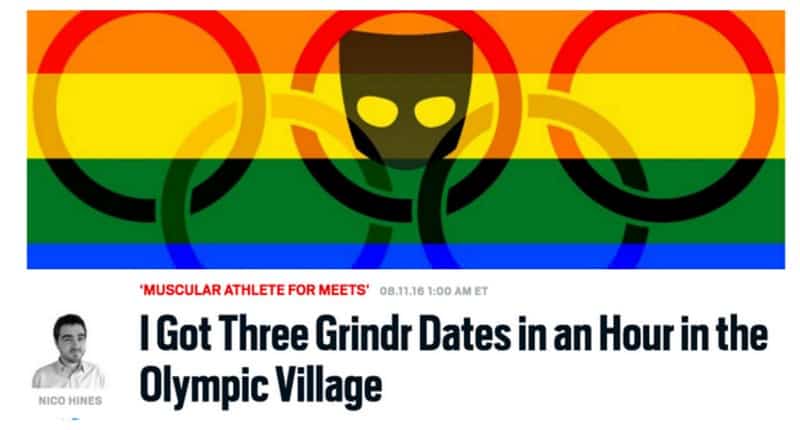 On Twitter, many have denounced Hines for his invasion of what some have termed a gay safe place. Hines was also accused of mocking and deriding gay sex and jeopardizing the safety of gay athletes.
lets just do a fun piece where we give identifiers of queer athletes from homophobic countries wanting to go about their business in peace

— Bec Shaw (@Brocklesnitch) August 11, 2016
the private lives, spaces & safety of LGBTI people do not exist for your fluff pieces @NicoHines

— Bec Shaw (@Brocklesnitch) August 11, 2016
i fixed this @NicoHines pic.twitter.com/KDIGTuUvmC

— Bec Shaw (@Brocklesnitch) August 11, 2016
Hines admits in his article that he didn't tell people he met on Grindr that he isn't gay–or that he would be publishing intimate details about them.
For the record, I didn't lie to anyone or pretend to be someone I wasn't—unless you count being on Grindr in the first place—since I'm straight, with a wife and child. I used my own picture (just of my face…) and confessed to being a journalist as soon as anyone asked who I was.
There were dozens of eligible bachelors listed on Grindr within a few hundred yards of where I was standing at the entrance to the athletes' village. One posed in his full team kit. Others referred to their elite sporting status more furtively, but they included one of the world's top equestrians and a track and field athlete a few days away from competing.
Salon writer Mary Beth Williams pointed out many of the edits that were made to the original story.
https://twitter.com/embeedub/status/763734291876544513
https://twitter.com/embeedub/status/763730138148302848
In an article, Williams also took Hines to task for his reporting:
And what dangerous arrogance, what horrifying irresponsibility, to cavalierly all but out these men for engaging in private consensual behavior. What a prurient, loathsome thing to do to them, and to their families, especially to those coming from places Hines acknowledges are intolerant to gay people. And for what? Clicks? An excuse to look at photos of a "black guy with a perfect six-pack"? Un. Be. Lievable.
Hines, who last year wrote a Daily Beast story claiming "Sexual Frustration Driving Kids to ISIS," came to The Daily Beast three years ago. At the time, Tina Brown praised him as "a first-rate reporter whose wit and flair will be right at home on The Beast." Remind me how much wit and flair it takes to write an ogling piece that puts the safety of other individuals in jeopardy.
Daily Beast Editor in Chief John Avlon responded to criticism of the piece in an editor's note, writing,
There was some concern that the original version of this story might out gay male athletes, even by implication, or compromise their safety. This was never our reporter's intention, of course. No names were ever used and some of the profiles described were of straight women. But there was a concern that even mentioning the home nation of some gay athletes could compromise their safety. As a result, we have removed all descriptions of the men and women's profiles that we previously described.
The concept for the piece was to see how dating and hook-up apps were being used in Rio by athletes. It just so happened that Nico had many more responses on Grindr than apps that cater mostly to straight people, and so he wrote about that. Had he received straight invitations, he would have written about those.
Hines himself has not yet responded.
[h/t ONTD]