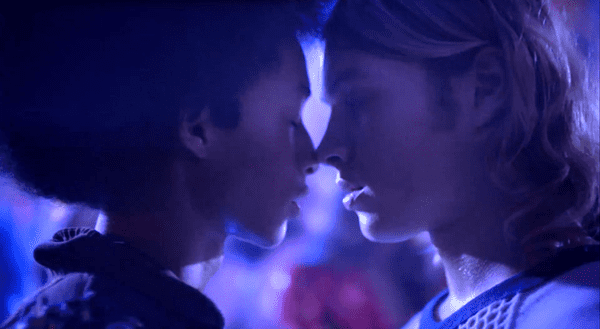 Jaden Smith, the fashion forward son of Will and Jada Pinkett Smith, is proving that he's comfortable embracing queer sexuality in his work as an actor.
Appearing in Baz Luhrmann's new musical series The Get Down on Netflix, Smith plays Dizzee, a young black man living in New York in the 70s who's coming to terms with liking boys.
Some background on the show:
The Get Down focuses on 1970s New York City – broken down and beaten up, violent, cash strapped — dying. Consigned to rubble, a rag-tag crew of South Bronx teenagers are nothings and nobodies with no one to shelter them – except each other, armed only with verbal games, improvised dance steps, some magic markers and spray cans. From Bronx tenements, to the SoHo art scene; from CBGBs to Studio 54 and even the glass towers of the just-built World Trade Center, The Get Down is a mythic saga of how New York at the brink of bankruptcy gave birth to hip-hop, punk and disco — told through the lives and music of the South Bronx kids who changed the city, and the world…forever.
As the first season of The Get Down goes along, Dizzee begins to explore his attraction to boys, and at a secret party in the city he decides to make a move.
MoviePilot has more on Dizzee and his journey:
Dizzee is an outsider, the kind of guy who's usually lost in his own head and has an air of supernatural calm. It's basically Jaden Smith, but the '70s version with flares, which is fine by me. Over the six episodes he fields various taunts of "faggot", which to the show's credit is never made into a big deal, but it's not until the sixth episode (the Season 1A finale) that The Get Down directly addresses Dizzee's sexuality.
Watch the scene, which is set to the song "Telepathy" by Christina Aguilera, below.
And you can listen to the track, as well as the entire series soundtrack, on Apple Music here.
https://www.youtube.com/watch?v=u1hH-4qaNPE
You can stream The Get Down now on Netflix.