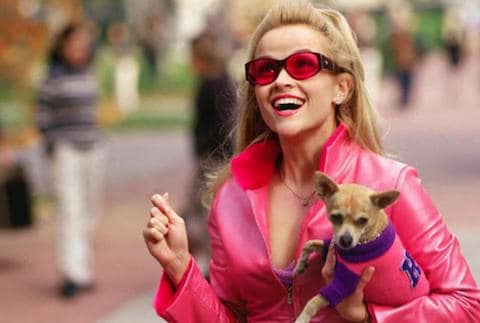 Looking for something to stream while you Netflix and chill? Check out our picks for new additions to streaming services this month below, including gay love stories Holding The Man and Blue Is the Warmest Color.
Holding The Man (2015), Available on Netflix August 1
Timothy Conigrave's memoir gets an emotional film adaptation in this sweeping gay Australian love story. Holding The Man chronicles Conigrave's 15-year relationship with John Caleo while portraying the coming out process and the AIDS crisis against a backdrop of the 1970s and '80s.
Capote (2005), Available on HBO Now August 1
The late Philip Seymour Hoffman's Oscar-winning turn as iconic gay author Truman Capote in this drama chronicling his writing of In Cold Blood, a sort of pre-cursor to The Jinx and Making A Murderer.
Legally Blonde (2001), Available on Hulu August 1
Now's your chance to perfect your bend and snap! Reese Witherspoon's classic comedy hits Hulu in all its wonderful pink glory. Cast includes gay faves like Victor Garber, Holland Taylor, Jennifer Coolidge and Ali Larter. (OK, maybe Ali Larter is a stretch, but have you seen Obsessed? Come on.)
The Little Prince (2016), Available on Netflix August 5
One of the most beloved children's books ever, Antoine de Saint-Exupéry's The Little Prince is brought to life with stunning animation, featuring the voices of Rachel McAdams, Marion Cotillard, Jeff Bridges, Paul Rudd, James Franco and more. While not an expressly LGBT film, the fable will resonate with anyone who's ever looked at the adult world and did't understand why we do the things we do.
Blue Is the Warmest Color (2013), Available on Netflix August 26
Lauded for its raw realism (and notable for the graphic sex scenes that earned the film an NC-17 rating), this critical darling was the first film to win the Palme d'Or at Cannes for both its director and its actresses. The French film follows young lovers Adèle and Emma from the beginning of their high-school romance into their turbulent adult relationship.
The State Of Marriage (2015), Available on Netflix August 29
Same-sex marriage may be the reality across the country today, but you can trace its roots to lawyers Mary Bonauto, Susan Murray, and Beth Robinson in Vermont. This documentary tells the story of the struggle behind Vermont Supreme Court case Baker v. Vermont, and reminds us how different things were not too long ago.
What are you streaming this month?