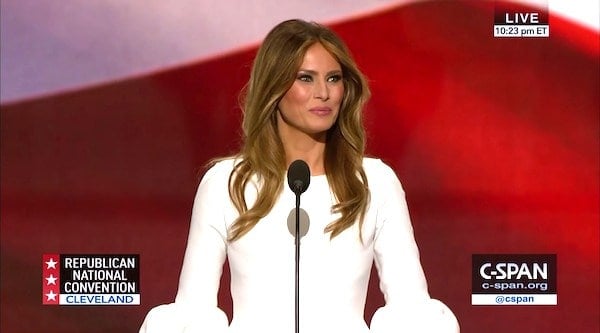 The racy photo shoot published by the New York Post earlier this week is raising new questions about Melania Trump's legal status when she first worked as a model in the U.S., Politico reports. Experts say that based on accounts she has given in several interviews, Trump was likely visiting the U.S. on a B-1 Temporary Business Visitor or B-2 Tourist Visa, neither of which permit employment.
Trump has told several news organizations (MSNBC and Harper's Bazaar among them)  that during her first years in the U.S., while she was working as a model, she had to leave several times to go back to Europe to have her visa stamped before returning. In more recent interviews, Trump has claimed that she was on an H-1B visa.
Trump's tale of returning to Europe for periodic visa renewals is inconsistent with her holding an H-1B visa at all times she was living in New York — even if it was the lesser-known H-1B visa specifically designed for models — said multiple immigration attorneys and experts. An H-1B visa can be valid for three years and can be extended up to six years — sometimes longer — and would not require renewals in Europe every few months. If, as she has said, Trump came to New York in 1996 and obtained a green card in 2001, she likely would not have had to return to Europe even once to renew an H-1B.
Instead, Trump's description of her periodic renewals in Europe are more consistent with someone traveling on a B-1 Temporary Business Visitor or B-2 Tourist Visa, which typically last only up to six months and do not permit employment.
Given Donald Trump's stance opposition to illegal immigration, this could present some fresh problems for his campaign.