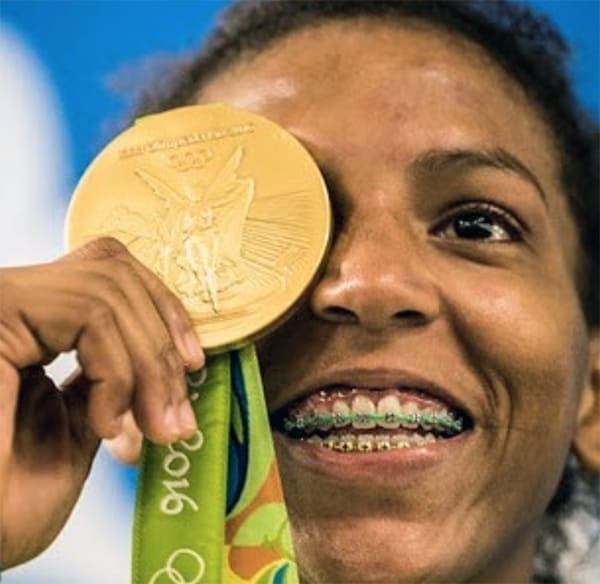 Rafaela Silva, the first (and so far only) medalist to give host Brazil a gold medal, had a very tough road leading up to her recent Olympic glory.
On Monday, Silva was nearly flawless while competing in the women's 57kg (125.5 lbs) Olympic tournament. She won all five of her matches without giving up a single score to earn Brazil's first gold medal of these Games. She defeated Sumiya Dorjsuren of Mongolia, the world's No. 1 ranked fighter in the weight class.
She became an instant national hero and a figure who's now adored by millions of Brazilian fans who were finally able to hear their national anthem played during a national ceremony.
But how things change, when you are on top.
Four years ago in London, Silva was a medal hope for Brazil but got disqualified after performing an illegal hold on a preliminary round during a fight with Hedvig Karakas of Hungary. She then became the target of vicious, racially-charged attacks on social media. She fell into a deep state of depression and considered leaving the sport.
During a conference Monday, she remembered those dark days:  "People told me: 'The place for you is as a monkey in a cage.' But my place is in sports, in judo."
It was tough. But thankfully, there was love.
For the last three years, the 24-year old sergeant in the Brazilian Marine has counted on girlfriend Thamara Cezar for love and emotional support. Brazilian newspaper O Globo reported Wednesday that Cezar manages everything in the life of the gold medal-winner, so that the only thing Silva needs to worry about is to train and to win.
Cezar takes care of their three dogs (whom they call their "children"), she works as Silva's PR person,  talking to the press and managing Silva's social media accounts, and she does everything in the apartment they share in Rio.
She can't cook and she's also very messy, Cezar told O Globo. Silva didn't deny it: "I'm not good at doing anything, really. I can only fight," she said.
Silva grew up in the Cidade de Deus favela, one of Rio's most dangerous neighborhoods, made famous by the 2002 film City of God  (which was directed by Fernando Meirelles, one of the three creative directors for the Rio 2016 opening ceremony.)
Speaking to Brazilian news channel Sportv after her win, Silva couldn't even speak for a few seconds, trying to fight off her tears: "They said judo wasn't for me, and that I was a shame to my family."
Well, how sweet it must feel to prove everybody wrong!
https://www.instagram.com/p/BGy8diOpXNI/?taken-by=rafaelasilvaa
"When you are next to somebody, and even without saying anything she makes you feel good."
https://www.instagram.com/p/BH-0fH5DKvr/?taken-by=rafaelasilvaa
https://www.instagram.com/p/BHZkWLejZOs/?taken-by=rafaelasilvaa
Top photo credit: Rafaela Silva / Instagram