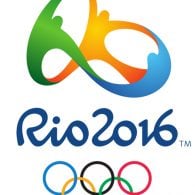 Day three in Rio zd:
Tom Daley won the bronze medal in synchronized diving (China won the gold, Team USA took the silver) in the men's 10-meter synchronized platform diving with teammate Daniel Goodfellow. It was a nail-biter fight for the bronze, and at the end of the fourth out of six dives, Daley and Goodfellow led Maksym Dolgov and Oleksandr Gorshkovozov, of Ukraine by only 0.14 points.
But the fifth dive separated them: the British duo got the second-best score in that round, but Team Ukraine wasn't so lucky.
His fiancé Dustin Lance Black was there and couldn't hide how proud he was:
We made it! Go @TomDaley1994 and @danngoodfellow! Go #WarriorMonkey! pic.twitter.com/ykqhTpDjVq

— Dustin Lance Black (@DLanceBlack) August 8, 2016
So proud of you my love!!!Congratulations @TomDaley1994 & @danngoodfellow! #Bronze #Diving #Rio2016 ❤️

— Dustin Lance Black (@DLanceBlack) August 8, 2016
So happy for you. So proud. #TeamGB #TeamDaley #Diving #Rio2016 ❤️❤️❤️ pic.twitter.com/WqIrHOYqz8

— Dustin Lance Black (@DLanceBlack) August 9, 2016
♦
Married couple Helen and Kate Richardson-Walsh helped Team Great Britain get one step closer to the gold medal (they got bronze in London 2012) as they defeated India 3-0 and moved into first place in Pool B.
♦
Brazilian rugby player Isadora Cerullo helped her team defeat Japan (33-5) to claim the ninth-place in the tournament. Then, after the medal ceremony (gold for Australia, silver for New Zealand and bronze for Canada) Marjorie Enya, her long-time girlfriend and a Rio 2016 volunteer, gave her a reward even better than gold: she grabbed the microphone and proposed to Cerullo.
She said 'yes' and they kissed while her teammates held heart-shaped balloons and letters that spelled out "sim" ("I do"). "As soon as I knew she was in the squad I thought I have to make this special," Enya later told BBC sports, "she is the love of my life."
Isadora Cerullo (seleção br. de rugby) beija Marjorie, voluntária nos Jogos, após receber pedido de casamento <3 pic.twitter.com/c6dsvPY2Qi

— Dibradoras (@dibradoras) August 9, 2016
♦
In non-LGBT news, host Brazil had a lot to celebrate: Rafaela Silva won the country's first gold medal of the Olympics in the women's 57kg (125.5 lbs) judo competition, defeating Sumiya Dorjsuren of Mongolia, the world's No. 1 ranked fighter in the weight class.
Silva grew up in the Cidade de Deus favela, one of Rio's most dangerous neighborhoods, made famous by the 2002 film City of God  (which was directed by Fernando Meirelles, one of the three creative directors for the Rio 2016 opening ceremony.)
She almost gave up the sport after her elimination from the London Games in 2012, when she suffered vicious racist attacks on social media.
Speaking to Brazilian news channel Sportv, Silva couldn't even speak for a few seconds, trying to fight off her tears: "They said judo wasn't for me, and that I was a shame to my family."
https://www.youtube.com/watch?v=E_yeNIzLlNQ
♦
A second Olympian — another boxer —  was arrested by Brazilian police on suspicion of attempting to sexually assault a maid in the Rio de Janeiro Olympic village. She alleged that Jonas Junius (Namibian's flag-bearer in the opening ceremony) grabbed her and tried to kiss her. She also accused him of offering her money to have sex, the BBC reported.
♦
Team USA leads the medal count:
Team USA is expanding its lead in the medal count in Rio… 🇺🇸🏅 pic.twitter.com/CPOS2z1Xxn

— CBS Mornings (@CBSMornings) August 9, 2016
♦
In the men's gymnastics final, Japan won gold, the Russian Federation took the silver, and a visibly devastated China won the bronze.
Brazil finished sixth, but both athletes and fans had reason to cheer: it was the team's best result ever. Besides, according to BuzzFeed, they are a team so hot it's problematic, so how can you not be happy about that?
And speaking of hot men, Towleroad was there to check things out for you. We know it's a tough life, but somebody has got to do it.