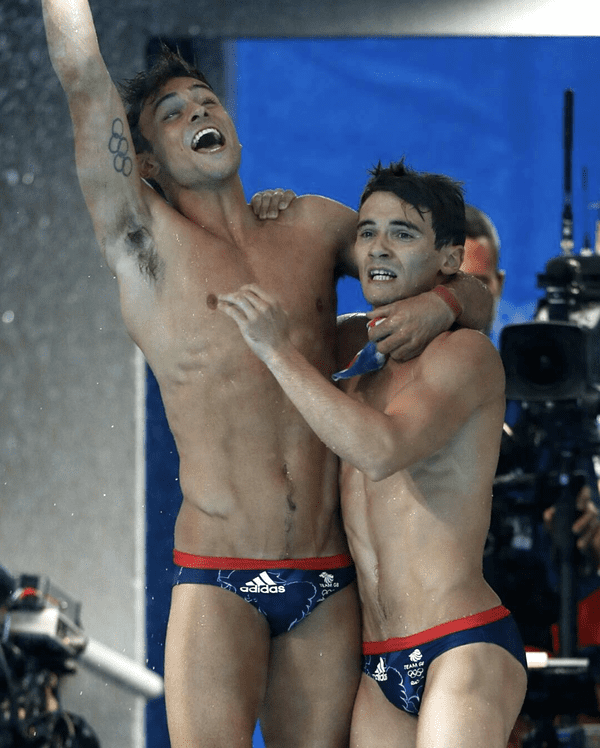 Tom Daley and his synchronized diving partner Dan Goodfellow won the bronze medal in the synchro 10m platform dive on Monday.
Daley finished fourth in the same event at the London games in 2012. He and Goodfellow waited in agony as the judges deliberated over their scores.
Once the scores came in, and the bronze was assured, Daley and Goodfellow celebrated in the most adorable way possible: by hugging and falling into the pool.
Tom Daley and Dan Goodfellow win Bronze for diving at the Rio Olympics! Well done @TomDaley1994 #TeamGB pic.twitter.com/3KZdaHVg1c

— Scott Campbell (@stenchmobile) August 8, 2016
Not all of their dives had been perfect up to that point but with the pressure on Tom Daley and his 10m platform diving partner Daniel Goodfellow delivered.
As they did so, they secured the bronze that for Daley laid to rest the demons of London, when he finished fourth in the same event, and four years earlier in Beijing when had come last as a 14-year-old amid a very public falling out with his dive partner.
After jousting over five rounds for third, the pair executed a difficult back three and a half somersault pike that guaranteed bronze. Their coach, Jane Figueiredo, let loose an ear-piercing scream and the rest of the watching British diving entourage went wild.
Daley's fiancé, Academy Award-winning screenwriter Dustin Lance Black, was on hand at the event on Monday to cheer him on.
Black congratulated Daley on Twitter.
So proud of you my love!!!Congratulations @TomDaley1994 & @danngoodfellow! #Bronze #Diving #Rio2016 ❤️

— Dustin Lance Black (@DLanceBlack) August 8, 2016
Check out more photos of Daley's history-making moment, below.
https://instagram.com/p/BI3MApPDI9q/
https://instagram.com/p/BI3NgrkDOjR/
https://instagram.com/p/BI3JoCSAa7W/
UPDATE #1. Daley tweeted out a photo with Goodfellow celebrating their bronze medal win.
OLYMPIC BRONZE MEDALISTS!! Can't believe it! So happy and proud of you @danngoodfellow 🙂 pic.twitter.com/uc4DPL5sFG

— Tom Daley (@TomDaley1994) August 8, 2016
UPDATE #2. Daley and Goodfellow's bronze medal-winning moment is made even better when you sync it to "My Heart Will Go On."
Tom Daley's Bronze is better with titanic music #TomDaley pic.twitter.com/7tpbD4AcI1

— Stu (@Lynchy30) August 8, 2016
[Top photo via Instagram]