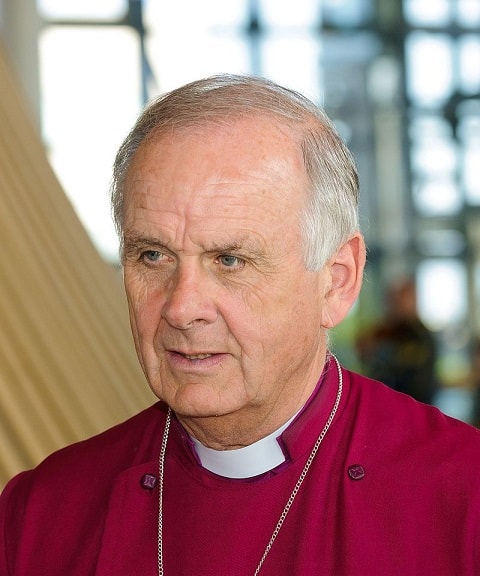 Dr Barry Morgan, the Archbishop of Wales, says that sex between gay people in committed relationships is perfectly "proper."
Ahead of his retirement, Morgan spoke at his final address to the governing body of the Church in Wales. He used his speech to urge members to rethink traditional beliefs about same-sex relationships as being sinful.
During the speech, he said that it is not possible to argue that there is "one settled understanding of what the Bible says" on sexuality, reports the Telegraph.
Even Biblical texts often cited as condemning homosexuality, such as the destruction of Sodom and Gomorrah with fire and brimstone, could be "interpreted in more than one way", he said.
Read as a whole, it is not possible to argue that there is "one settled understanding of what the Bible says" on sexuality and a range of other topics, he claimed.
Dr Morgan, a prominent liberal figure in the church, is stepping down in early 2017 after 14 years as Archbishop, the longest serving primate in the worldwide Anglican Communion.
In his address he cites a string of examples from both the Old Testament and New Testament in which, he said, different passages effectively contradict each other on topics as diverse as the status of eunuchs in Jewish society to the use of violence in retribution.      
"What all this shows is that within the Scriptures themselves, there are radical shifts in understanding in what it means to discern the will of God. It absolutely will not do to quote texts from parts of the Bible in a simplistic way without reference to their contexts, said Morgan.
"What all this amounts to is that one cannot argue that there is one accepted traditional way of interpreting Scripture that is true and orthodox and all else is modern revisionism, culturally conditioned. Scripture itself is diverse and theological views held in some biblical books are reshaped in the light of experience by other writers….
"So taking the Bible as a whole and taking what it says very seriously may lead us into a very different view of same-sex relationships than the one traditionally upheld by the Church…..
"Given that each of the passages purported to be about homosexuality can be interpreted in more than one way, we come to the fundamental question as to whether taking the Bible as a whole, we can come to the same conclusions about committed, faithful, loving, same-sex relationships as we did about slavery.
"We are not thereby abandoning the Bible but trying to interpret it in a way that is consistent with the main thrust of the ministry of Jesus, who went out of His way to minister to those who were excluded, marginalised, and abandoned by His society because they were regarded as impure and unholy by the religious leaders of His day, either because of their gender, age, morality or sexuality. Taking Holy Scripture seriously means paying attention to Jesus' ministry of inclusivity."
Earlier this month, Bishop of Grantham, the Rt Rev Nicholas Chamberlain became the first bishop to openly declare he is gay and in a relationship.
In January, the Anglican Church suspended the U.S. Episcopal Church for three years from any committees or decision-making over its acceptance of gay marriage and gay relationships. In the same month, a poll found that 45% of people who define themselves as Church of England approve of same-sex marriage, compared with 37% who believe it is wrong.
You can read Morgan's full address here and watch an interview with Chamberlain below.
(Image via Wikipedia)
https://youtu.be/0L44AFY9hE0