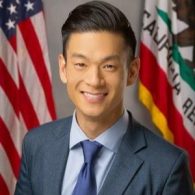 California lawmakers have approved a ban on state-funded travel to other states that discriminate against LGBT people.
Introduced by Assembly Member Evan Low (above and right) last February and signed by California Governor Jerry Brown on September 27th, AB 1887 prohibits "a state agency and the Legislature from requiring any of its employees, officers, or members to travel to, or approving a request for state-funded or state-sponsored travel to, any state that, after June 26, 2015, has enacted a law that voids or repeals, or has the effect of voiding or repealing, existing state or local protections against discrimination on the basis of sexual orientation, gender identity, or gender expression or has enacted a law that authorizes or requires discrimination against same-sex couples or their families or on the basis of sexual orientation, gender identity, or gender expression, as specified, subject to certain exceptions."
AB 1887 was signed: bans state funded travel to states that discrim against LGBT people. Thx @Benioff @KamalaHarris @eqca #lovewins 🌈🏳️‍🌈❤️ pic.twitter.com/R4W9d7pAnD

— Evan Low (@Evan_Low) September 27, 2016
In May, Low said that AB 1887 – sponsored by Equality California and the National Center for Lesbian Rights – "sends a clear message that we do not tolerate discrimination in California or anywhere beyond our borders. Just as we strive to be a state that provides equal opportunity for all," he added "we should not be spending our tax dollars in states that allow discrimination toward the LGBT community. We are stronger by being inclusive."
Earlier this year, Washington, Vermont, New York City, San Francisco, Seattle and New York banned official travel to North Carolina because of that state's contentious HB2 law.
(Image via Twitter)