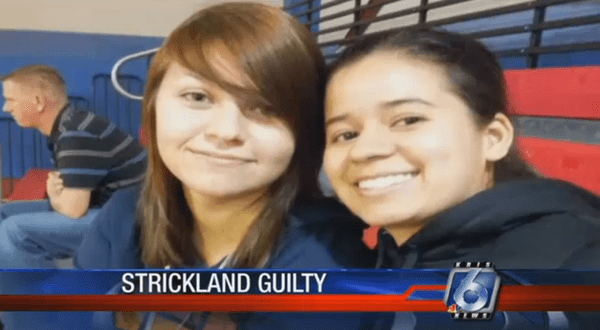 A jury in San Patricio County, Texas has found David Malcolm Strickland guilty of capital murder and sentenced him to life in prison.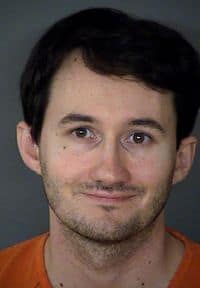 Strickland brutally shot and sexually assaulted a teenage lesbian couple in Texas back in 2012. Strickland attacked 19-year-old Mollie Olgin and 18-year-old Kristene Chapa when he came upon them at a park in Portland, Texas, not far from Corpus Christi. He blindfolded them with duct tape, sexually assaulted them, and then shot them in the head execution style, leaving them for dead.
The pair were later found by a couple who were at the park on a birdwatching trip. Olgin died of her injuries but Chapa miraculously survived and has undergone intensive therapy over the last several years. However, she has been left permanently scarred, both physically and emotionally, by the attack.
Chapa was in the courthouse when Strickland's conviction was announced.
"I was very shocked at first. I didn't know what to expect exactly, I was hoping that they (the jury) would see all the evidence that we had and they would go our way. (It was) very emotional.. I wanted to just burst out in tears," Chapa told KRIS 6 news.
Mollie's sister, Megan Olgin, said of Mollie's death, "She was only 19. She didn't get to live her life. He took that away from her." Olgin went on to say, "I'm just  happy that it's finally over. The jury saw the evidence and now finally there's justice. It doesn't bring her back. But at least he can pay for what he did."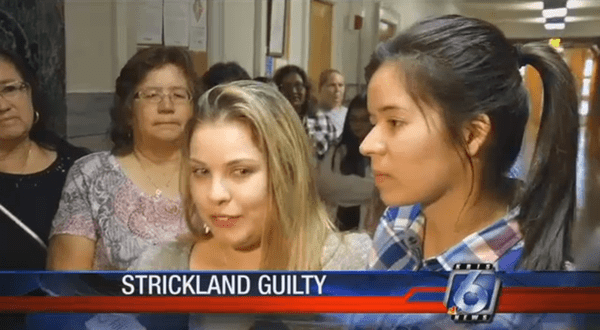 In closing arguments, Strickland's attorneys tried to convince the jury that the first suspect in the case was the gunman, claiming there was more evidence indicating he was involved, not Strickland. There was also more commentary about the police interrogation video in which the defendant admitted to the crimes, then told a Texas Ranger he was making it all up. Attorneys also cast doubts on the handling of evidence in the case, highlighting that officers in Portland were fired or demoted as a result of the investigation.
The Prosecution countered with an admission that the first suspect was a strongly considered, until a letter was dropped off two years after the shootings. The letter contained details never released to the public. The fact that portions of the letter were found on Strickland's personal computer left little doubt as to the origins. A ballistics expert also told the court that bullet fragments found at the crime scene match samples taken from Strickland's .45 caliber Glock.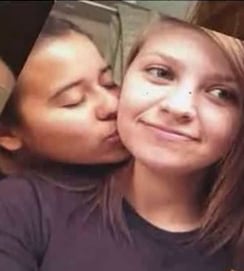 Chapa testified at Strickland's trial and says she was able to identify him despite the fact that he was wearing a mask when he attacked her.
Chapa said she wasn't bothered by facing Strickland in court, "Because he's a coward." She added,"David Strickland put his head down and wouldn't look at me, so what does that mean to you? Did you see him in the courtroom? He didn't do anything."
Chapa was also able to talk to Strickland after his conviction and enumerated the many things he stole from her that night in 2012.
Previously, county prosecutors were concerned anti-gay bias could negatively impact the jury. Strickland was not charged with a hate crime.
Watch news reports from KRIS 6 below.
KRISTV.com | Continuous News Coverage | Corpus Christi